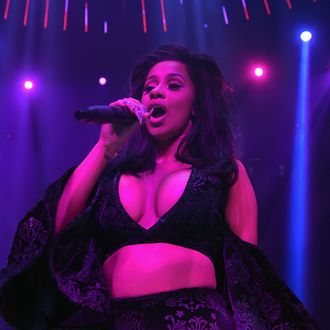 Cardi B.
Photo: Gustavo Caballero/Getty Images for E11EVEN
Just in time for the holidays, Cardi B is bringing a gift to her fans: a brand-new single the Friday before Christmas. The rapper announced on Instagram that she'll be releasing "Bartier Cardi, " featuring 21 Savage, on December 22. Only the first few seconds of the song are available on social media for listening, but it seems like as good a way as any for Cardi B to end her spectacular breakout year. That is, unless she has another single up her sleeve to drop right before New Year's Eve or something. She is full of surprises.
Update, December 21, 11:40 p.m.: "Bartier Cardi" is now out and available to stream.