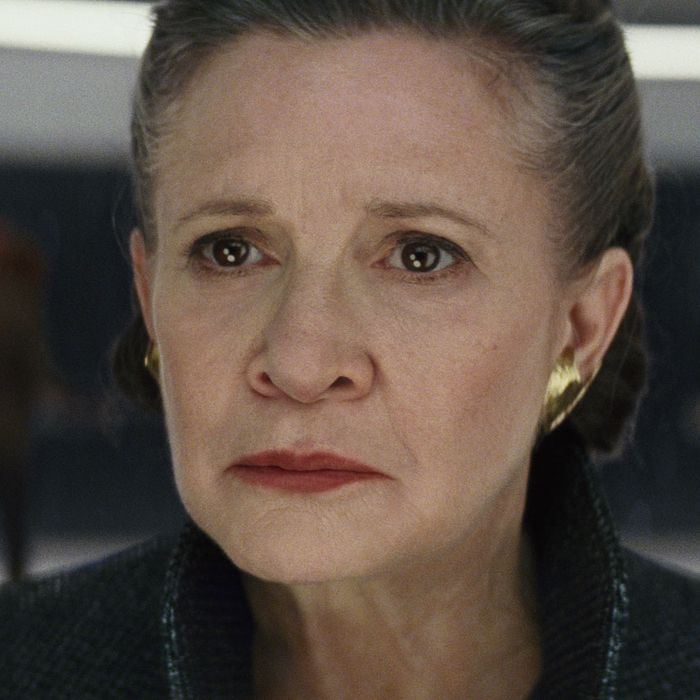 Star Wars: The Last Jedi hits theaters next week, and the press tour is already at full throttle. The cast — including Daisy Ridley, Adam Driver, John Boyega, and Mark Hamill — are making the rounds, attempting to answer the unanswerable: Who are Rey's parents, are Finn and Poe in love, and what's up with Admiral Holdo's space hairdo?
But there's one notable absence in all of this hubbub: Carrie Fisher, who will make her final cinematic appearance in The Last Jedi. Fisher's acerbic wit and magnetic presence were a key component in The Force Awakens's press leg, and informally introduced much of the world to a side of the actress that didn't get the same sort of regal attention as her onscreen alter ego. Fisher was a woman of range, trauma, and addiction; her struggles were well-documented in her novels (Postcards From the Edge, Surrender the Pink), her one-woman comedy show (Wishful Drinking), and her famed appearances on everything from Good Morning America to The Graham Norton Show. Her persona was one of a kind, larger than life, and her absence leaves a gaping hole in the current promotion schedule — a reminder of all that we should have had and never deserved. As her Star Wars co-star Domhnall Gleeson reminded us in a touching tribute video, watching The Last Jedi is "gonna be weird," because she was a "brilliant woman who was just totally herself."
To commemorate the late Carrie Fisher, we've created a collection of her best interview moments. Let these commentaries on various topics — from addiction, to fame, to mental illness — serve as antidotes to this current press cycle. She may not be here in person, but her words linger on.
ON WORKING WITH GREEN SCREENS: "I started doing the films when I was 19, so it's one of my specialties, except for a type of chicken that I can make." —Late Night With David Letterman, 1983
ON THE DIFFERENCE BETWEEN NEW YORK AND L.A.: "Three hours. Most people know that. I'm surprised that you don't." —Esquire, 1985
ON WHAT IT'S LIKE TO BE HER: "I feel like I'm the doctor and the patient, but a lot of times the doctor isn't in. I operate at such a level that sometimes it feels dangerous. If I fell off the edge of myself, I don't know how long it would take to get back up." —Esquire, 1985
ON WHY SHE LACKS SELF-ESTEEM: "I don't think it's what you're given, it's how you take it. And I was given all the right things and I think I took them the wrong way." —CNN, Larry King Live, 1990
ON HER FATHER AND HIS DRUG ADDICTIONS: "For years he'd been doing everything imaginable … from speed to downers to you name it. I used to call that 'changing seats on the Titanic,' and I used to say that I myself was not only changing seats on the Titanic but dating the crew." —Interview Magazine, 1990
ON WARREN BEATTY PROPOSITIONING HER FOR SEX ON THE SET OF SHAMPOO: "He offered to relieve me of the huge burden of my virginity. Four times. That was the big offer. I decided against it. I decided for reality over anecdote." —Rolling Stone, 1991
ON HER MOTHER'S CONCERNS ABOUT PUTTING HER LIFE INTO NOVELS: "I have someone in [the book] who shoots heroin and she said, 'People are gonna think this is you,' and I thought, 'No, people are going to think this is your daughter.'" —So Graham Norton, 1999
ON BEING DIAGNOSED AS BIPOLAR: "I like being manic. At a certain point though, no, because you're peerless. Who else is like that? And you're a spectacle." —Oprah, 2011
ON SEARCHING HER NAME ONLINE: "I did Google myself recently — without lubricant. I don't recommend it." —The Late Show With David Letterman, 2009
ON THE SIMILARITIES BETWEEN PAUL SIMON AND HARRISON FORD: "They're both better after a couple of beers." —The Guardian, 2016
ON HER AFFAIR WITH HARRISON FORD: "No one thought it was happening at the time. I don't even know if he did." —The Ellen DeGeneres Show, 2016
ON HOW HER AFFAIR WITH HARRISON FORD HELPED WITH HER INSECURITIES: "Certainly the situation didn't make me feel that much better about myself. But in a way it did." How? "Because he'd chosen me." —The Guardian, 2016
ON BEING BORED IN AN INTERVIEW: "Things are getting worse faster than I can lower my standards." —The Late Late Show With Craig Ferguson, 2010
ON HER ADVICE TO YOUNG PEOPLE STRUGGLING WITH MENTAL ILLNESS: "Stay afraid but do it anyway. What's important is the action. You don't have to want to be confident. Just do it and eventually the confidence will follow." —Herald Tribune Health, 2013
ON WHY STAR WARS IS STILL SO POPULAR: "This reminds [people] of their childhood. That's really powerful. And as a kid — it did that to me and I was 19 when I saw it and was in it. You've never seen anything like it. Plus, it's like a fairy tale. America's version of a fairy tale is gonna be an outer space film." —Alan Carr: Chatty Man, 2014
ON LOSING WEIGHT FOR STAR WARS: "They want to hire part of me, not all of me. They want to hire about three-fourths. And so I have to get rid of the fourth somehow. The fourth can't be with me." —The Late Show With Stephen Colbert, 2016
ON IF IT TOOK CONVINCING FOR HER TO RETURN TO STAR WARS: "No. I'm a female in Hollywood over the age of of let's say 40, and we could also say 50 … They don't have to ask you if you want to work at that age." —Good Morning America, 2015
ON WHAT ADVICE SHE WOULD HAVE LIKED AT 19: "Don't get loaded your whole fucking life." —Rolling Stone, 2016
ON HER MOTHER BUYING HER A VIBRATOR: "She got one for my grandmother and for myself. And my grandmother refused to use it because she thought it would short-circuit her pacemaker." —8 Out of 10 Cats, 2016
ON IF SHE FEARS DEATH: "No. I fear dying … But if I was gonna do it, I'd want someone like me around. I will be there!" —Rolling Stone, 2016