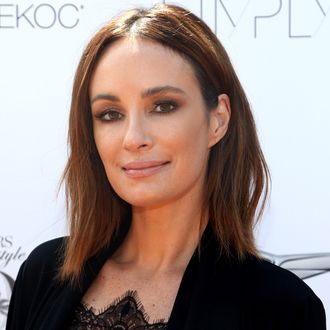 Photo: Tommaso Boddi/Getty Images for Fashion Island
On Monday, Catt Sadler left her position at E! Entertainment Television — a decision she says she made due to money, particularly a "massive" disparity in pay. The former E! News host detailed her reasoning for leaving in a letter on her personal website. Sadler explains that earlier this year she began working double-duty — during the day on the network's Daily Pop and most nights with E! News. And though she describes the experience as "one of the most fulfilling years of my professional career," she also became aware that her compensation was much lower than a similarly qualified male colleague:
Coincidentally, around this same time an executive from E brought something alarming to my attention — namely, that there was a massive disparity in pay between my similarly situated male co-host and myself. More recently, when E reached out to renew and extend my deal, I learned that he wasn't just making a little more than I was. In fact, he was making close to double my salary for the past several years.
Sadler also added that she has about the same work history as the unnamed male colleague. "I have two decades experience in broadcasting and started at the network the very same year as my close friend and colleague that I adore," she wrote. She says that when her team tried to negotiate a salary closer to his, they were "denied repeatedly." She continues, "How can I operate with integrity and stay on at E if they're not willing to pay me the same as him? Or at least come close?"
The letter in full can be read here.