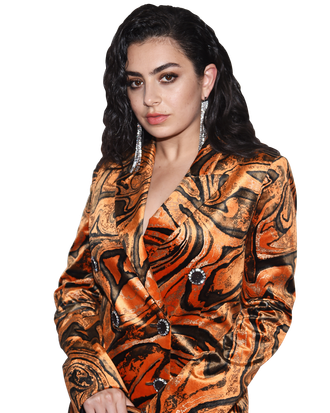 Charli XCX.
Photo: Getty Images
"I'm not saying this to be a cop out, but pop music is in a good place," Charli XCX says from her bed in Los Angeles, having just woken up from what must feel like a prolonged haze on tour with Halsey. Reflecting on the year in music, she struggles to find a pop trend she'd wish for 2017 to keep. "I'm really happy that EDM is pretty much over," she offers. Charli's optimism about pop comes from firsthand experience: She's long been a secret weapon of the genre, penning hits for Iggy Azalea, Selena Gomez, and for herself as a solo artist with two albums to her name. This year, the 25-year-old Brit broadened her résumé with a sugary PC Music–style experimentation in her overlooked March mixtape, Number 1 Angel, the natural progression from her work with Sophie. Then she directed a few dozen famous boys in the music video for "Boys."
Now she's back with Pop 2, another mixtape that sees Charli chuck the pop rule book with manic production, cocksure one-liners ("Go fuck your prototype, I'm an upgrade of your stereotype"), and a guest list including Carly Rae Jepsen, Tove Lo, Caroline Polachek, Cupcakke, Mykki Blanco, Jay Park, MØ, and a handful more. It's what the roster of a Charli-operated record label might resemble. It's also the latest project that's had Charli questioning the shelf life of a multi-hyphenate creator, and why she's been putting off her long-delayed third album.
Vulture spoke with Charli about artists versus songwriters, getting drunk with Carly Rae Jepsen, what she wishes she had asked Lorde, and her emotional year.
What was the origin of this mixtape? I'd like to get a better understanding of which projects you're working on and when, between this, the album, and Number 1 Angel.
First of all, with the album, I don't really know when I'm gonna put it out. Or even if I'm gonna put out an album. I just don't know. And I think that's what leads me toward making mixtapes. The way that I work and write is so fast, and releasing these mixtapes is very beneficial to that. I get so frustrated having to sit on music. I've been sitting on music for my album for so long now that people hacked me and leaked some music. For me to keep on being creative, doing these mixtapes is good. Generally, I don't even really tell people when I'm working on it. It just happens. I'll tell fans the week before the release, and I'll tell the label two months before.
This one started happening just before I went on tour with Halsey when I was in London. Me and [producer] A.G. Cook do so much work together now and he's so fast, so we were just like, "Fuck, we should do another mixtape." We had this studio session where we made a few ideas, and then we went out and partied at this PC Music night. We didn't do anymore work, but we knew we had some good ideas and we should probably finish them. He flew over to New York for these really hectic, mental four or five days where we would stay in the studio until 4 a.m., and then we finalized everything. It was all being done while I was still on tour. In total, it took maybe two weeks. I would go into studios in L.A., Boston, Chicago, Austin, wherever and cut vocals. At the same time, I was sending shit to other artists asking them to jump on songs. I guess it was a longer period than No. 1 Angel just because there are more features. Honestly, I feel really sorry for A.G. He kept killing himself trying to finish this shit back in London, staying up for 24 hours for a week. He's really the hero of this mixtape.
Does it take a lot to convince Atlantic to let you release music this way? Fans and the industry expect mixtapes from rappers, but not pop stars.
The route that I'm going to take isn't going to be completely mixtape-focused. That's just now, just this year. But there will be an album of sorts [where] the main focus, the end goal, is this project or whatever. I think fans need that as well. There's still this nostalgic want for an album. So I will put something out; I just don't know if it'll be ten songs with two lead singles. Or if it'll be 20 songs, or a whole visual album, or four EPs, or a constant flow of demos done in a structured way. You know, I make pop music, and I have a fan base that wants that from me. Something will happen, I just don't know what the fuck it will be right now. But the label is chill. They understand that the music landscape has changed so much. For some artists, albums work. I'm trying to figure out whether that's me or whether I could do something different.
Tell me the story of how you connected with Carly Rae Jepsen.
I met Carly through [PC Music's] Danny L Harle because they did a song together. We were in L.A. and they had this PC Music night, which was pretty wild, actually. But Carly came with her parents [laughs], so we were all watching the show together. It was funny: Carly and her parents at this one table, me and all my friends at one table, then Tinashe and all her friends at another table. We were a gang. But I met Carly and her parents, and they were so sweet and obviously I'd been a fan. I have a lot of friends who've worked with her — Rostam, Ariel [Rechtshaid] — and since then, we kept bumping into each other. My friend and close collaborating partner Noonie Bao had been writing with her a lot and Patrick Berger as well, who I work with a lot. I went over to Carly's house for some party that she had and we just connected.
We spoke about this tweet that had gone viral of a picture of me, her, and Lorde. Our fans wanted us to make a song together. Then we got drunk and spoke about all these ideas we had about making a whole album together. One day, she was in the studio with my friend Justin Raisen, and I went down there. They had been partying and we were just gonna have a jam session, but she's really fun as a person, and she has so many ideas and is a really creative and wonderful songwriter. So when I did this mixtape, I hit her up, saying, "Is this the time?" And she said yes, so I sent her the song ["Backseat"] and she was into it, wrote her verse, came back to me, and I loved it.
Are you involved in her next album?
I went to one session, but I got there really late at midnight, and I guess everyone had been partying. So I wasn't really on their wavelength. We recorded vocals for like an hour, just a constant flow of craziness. I don't think she's gonna use that publicly, but it was fun. I would love to work on stuff for her.
In a typical month, roughly how many songs are you pitching to artists? I have this idea of you slipping in and out of those mysterious writing camps.
I'm always pitching. But I don't do it personally unless I happen to be in the same room as an artist. If there's a good song, I always will have someone out there pitching it [for me]. But recently, honestly, the songs I've been writing I've been keeping for myself. In January and February, I'm gonna write for a whole two months. That's when other artists will hear more shit from me and will be pitched. But I have done the camps, just not recently because I've been on tour for three months. But I'm in L.A. writing this week. It's beginning again. This is what I feel most comfortable doing.
Sometimes I wonder: Should I just not be an artist and be a songwriter? It's a constant conversation that's going on in my head. I feel most comfortable in the studio. You don't have to put makeup on, you don't have to dress up, or think or care about what anyone thinks of you. You can just go. I can literally go downstairs right now in what I'm wearing and record, then come back to bed. I wouldn't even have to shower. I would, but just saying.
What does your songwriting bucket list look like? I'm still waiting for your Rihanna moment.
Same, dude. When I was making the mixtape, I was thinking about so many people who I wanted to reach out to, but I ended up not having the right song or the time or whatever. Carly and Ella [Lorde] and I spoke about doing something together and that would still be cool. I didn't ask her because even though I know Ella, I thought she'd say no. But maybe I should've fucking asked! I would still really love to. I'd also love to work with Yung Lean and Robyn. I don't see collaborations as this sacred thing that you do once a year. I wanna do them all the time. That's why this mixtape is so overflowing with collaborations because A.G. and I said, "Fuck it, let's do as many as we can without imploding." It makes the whole process more fun for me. You're letting everyone be the star. The older I get, the more I want to fade away into the background and disappear. So this is a nice way of me getting to do that.
You tweeted the other day about this year being emotional for you. What has made it that way?
I meant it just for everyone. This year has been … fucking crazy. I was doing an interview yesterday with Ezra [Koenig] for [his Beats 1 radio show] "Time Crisis" and he said something that I thought was really interesting: This year has been the planet getting us back. This is what happens when you fuck with the planet. Whilst I don't feel like the world is gonna end just yet, I do feel like this year has been so extreme. From all of the crazy natural disasters happening, the fires in L.A. right now, then Trump and all this sexual-harassment stuff, and slavery being alive in Libya. I wonder: Is it all so crazy because I'm getting older and paying more attention, or is this a particularly bad year? I don't know the answer. But it just feels crazy.
This interview has been edited and condensed.