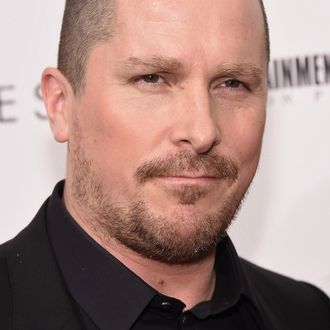 Photo: Gary Gershoff/WireImage
While promoting his new movie Hostiles, Christian Bale stopped by AOL Build with his co-stars Rosamund Pike and Wes Studi to discuss the film and the struggle mid-budget movies face at the theater. The conversation got onto the topic of the need for better representation in our society and Bale made some interesting points. Lately, some actors have centered the conversation about sexual harassment in Hollywood on how it affects other men, but Bale came through with a more inclusive opinion about how changing the face of power will benefit everyone.
"Our culture will be so much richer the day that we stop saying, 'Hey, it's all white dudes who are running things,'" Bale said. "Whether that be Hollywood, whether that be Washington, you know. We're going to get, in Hollywood, so much better films and so much more interesting stories being told and America will become the America that the rest of the world sees it as, that makes it unique." Bale, a Brit and America stan, then said some very nice things about this being "such a beautiful, brilliant country," and a place he feels has so much potential to inspire that, "It's the reason I moved here. It's the reason my kids have American accents." So there's a bit of uplift for your day, and a thanks to Bale for avoiding the "Not all men" route.