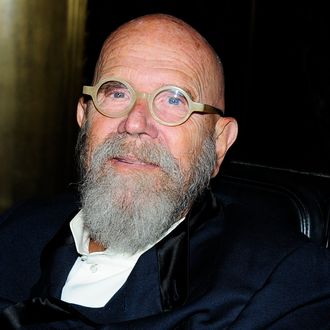 Chuck Close.
Photo: Paul Bruinooge/Patrick McMullan via Getty Images
After several women told the New York Times and HuffPost that acclaimed artist Chuck Close sexually harassed them, Close has apologized. The women said Close invited them to his studio, saying he was a fan of their work, before asking them to pose naked or topless as he made inappropriate comments about their bodies and sex lives. Close contends that he was simply speaking candidly, but apologized if he made the women feel uncomfortable. "I've never had a complaint in 50 years, not one," he told the Times. "Last time I looked, discomfort was not a major offense. I never reduced anyone to tears, no one ever ran out of the place. If I embarrassed anyone or made them feel uncomfortable, I am truly sorry, I didn't mean to. I acknowledge having a dirty mouth, but we're all adults."
Artist Julia Fox told HuffPost that when she took off her clothes to model for Close, he wheeled his wheelchair over to her and said, "Your pussy looks delicious." Close said that he didn't make the comment. Another woman, artist Langdon Graves, said that she was flattered when Close invited her to his studio, thinking he was interested in her work. Instead, she said, he poured her a glass of Scotch and asked her to pose naked for him, asking invasive questions about her personal life. Delia Brown, another artist, said Close asked her to pose topless for him after a similar invitation.