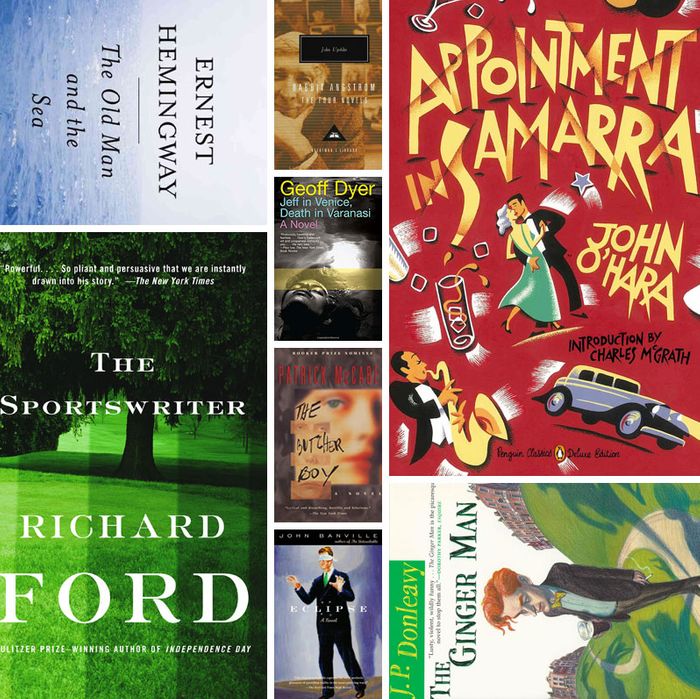 Bookseller One Grand Books has asked celebrities to name the ten titles they'd take to a desert island, and they've shared the results with Vulture. Below is Peaky Blinders star Cillian Murphy's list.
The Ginger Man, by J.P. Donleavy
One of those books that you read as a young man and become intoxicated with, yet it is a book to be savored over the course of a life. It was written with great mischief and humor, but full of empathy for the outsider struggling to imagine a purpose in this world. Donleavy is a writer who will be dearly missed.
The Butcher Boy, by Patrick McCabe
An absolutely stunning achievement and one of the most heartbreaking books I have ever read. Dark, fiercely funny, compassionate, and unashamedly Irish. Its depiction of a young boy's descent into isolation and madness in small-town Ireland has never left me …
Eclipse, by John Banville
Written by my other favorite Irish writer, this book couldn't be more different in tone than The Butcher Boy, but is no less captivating. In this beautifully meditative tale, Alexander Cleave is a celebrated actor who returns to live in his childhood home. The book seemingly has little or no plot but the sheer towering beauty of its language, atmosphere, and insight makes it impossible to put down or to forget.
The Sportswriter, by Richard Ford
Along with Updike, Ford has of course been the great chronicler of the modern American male. I relished the Bascombe trilogy, beginning with The Sportswriter. Frank Bascombe worked his way under my skin.
Rabbit Angstrom, by John Updike
A quartet of Rabbit novels in one edition. For me, it is essential reading — as essential yet entirely different to Ford's achievement. An extraordinary study and description of humanity and life in America between the '50s and the '90s.
Jeff in Venice, Death in Varanasi, by Geoff Dyer
Geoff Dyer is an abundantly talented writer. His books can sometimes defy classification and this one is certainly a case in point. It is a book of thrillingly different halves, about middle age, art, and existence. And much more. I devoured it.
Grief Is the Thing With Feathers, by Max Porter
One of the most moving books I have read in recent years. It investigates a father's suspended state of unexpected loss and grief with a gorgeously wry sense of humor. Captivating, poetic, and surprising.
The Old Man and the Sea, by Ernest Hemingway
It's always the beautiful simplicity of this story that transports me. Not a word is wasted. For such a short novel, it kind of approaches perfection in storytelling for me. Hemingway apparently said of the novel that it was the "best I can write ever for all of my life."
The Grass Arena, by John Healy
I had heard about this book for many years before I read it. Ostensibly it is the autobiography of a former alcoholic who chronicles his struggles living rough on the streets of London in a vivid and unique style, but it is more than that. It is the story of determination and rebirth, the tale of a chess champion who overcomes a savage childhood to live again. A powerful book indeed.
Appointment in Samarra, by John O'Hara
This is a searing novel set in 1930s America, and the story unfolds in just over 36 hours. It is a book about sex, alcohol, class, and dreamers. Devastating in its conclusion, it completely drew me into the atmosphere and pressure of what it must have been like to alive in America at that time. All details are present — the cocktails, the cars, and in this book most overwhelmingly, the unhappiness.