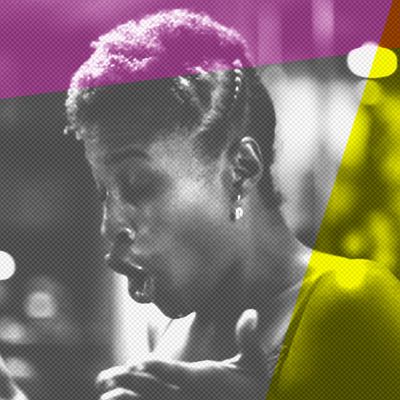 Surprise!
Photo-Illustration: Vulture and HBO
With each passing year, television and film edge closer to portraying the reality of sex, whether it's through the female gaze, hand jobs, or the strap-on. But at last, in 2017, our screens have runneth over with the fountain of youth: cum, the sticky coital leftover conveniently and historically ignored in sex scenes, is making a splashy debut. This year, the baby-making fluid came at us fast and loose, onto screens big and small, into romances both gay and straight, stories both dramatic and comedic. What's particularly salient about this year, though, is placement: Cum appeared in respectable, prestige film and TV projects like Insecure and Call Me by Your Name. Cum is hitting the mainstream, baby!
But before we dive in, we'd be remiss not to point out cum's prior appearances. On the TV front, you'll recall the episode of Sex and the City, where Carrie Bradshaw and the rest of the women attend a tantric sex workshop and Miranda gets caught in the crossfire of some male ejaculate that looked like Elmer's glue. On the short-lived Tell Me You Love Me, Adam Scott wore a prosthetic penis that eventually choked out some hair conditioner. (We saw the aftermath). And just a few years ago, Girls showed Adam's (Adam Driver) sperm all over Natalia's chest (Shiri Appleby) in the season-two episode "On All Fours." (All in all, HBO has really been the go-to network to let male ejaculate fly.)
Film has certainly taken bolder strokes, but cum often showed up in movies that rode the line between pornography and art. Think of the opening of John Cameron Mitchell's Shortbus, when Paul Dawson sucks himself off and comes into his mouth, or Michael Winterbottom's 9 Songs, which featured actual sex between the two romantic leads Kieran O'Brien and Margo Stilley, and more recently of course, the ever-provocative Gaspar Noé giving audiences a 3-D cum facial with his film Love.
But 2017 has offered the most tasteful, nuanced portrayals of cum yet — and in the sorts of award-winning projects you wouldn't have expected to see semen in the past. One of the most seminal movie moments of the year involves a cum-filled peach in Call Me by Your Name: A horny teenage Elio (Timothée Chalamet) masturbates with the stone fruit and ejaculates inside of it. He leaves the bruised peach, oozing with sperm, on his desk and falls asleep, whereupon his lover Oliver (Armie Hammer) discovers it and dips his finger inside for a taste (but does not eat it). Elio then bursts into tears, ostensibly moved by the idea that someone would want to feel that connected with him. But there's a less audacious — and equally tender — moment before that. After the pair have sex for the first time, Oliver wipes off some cum with his blue button-down — affectionately called "Billowy" in André Aciman's novel. Elio tells Oliver that the maid looks for "signs," but Oliver tells him not to worry. It's a simple detail, but one that adds warmth to the scene.
BPM, the Grand Prix winner this year at Cannes that's also France's submission for best foreign film at the Oscars, takes a similarly realistic approach. The sex scenes between the two lovers Nathan (Arnaud Valois) and Sean (Nahuel Pérez-Biscayart) are frank and filled with naturalism. Cum exists alongside lube, condoms, and discussions of HIV status as part of the fabric of how gay men have sex. "All those details, for me, are not provocative. They are really normal," said Robin Campillo, the director of the film. "I don't show it to shock. I show it because it connects me so much to the actors and the characters. To feel the reality of all those things, you know?" With BPM, the mechanics of gay sex aren't treated with trepidation or taboo, but rather with an understanding that it's part of life.
There's one scene from BPM that stands out for its poignancy: Nathan gives Sean a hand job after the latter has been hospitalized. Sean, who's HIV positive, is depressed and dying, his body a thin carriage of skin and bones. He misses Nathan, and the two have grown distant as Sean grows ill. What follows is one of the most heart-wrenching scenes of the year: Nathan — HIV negative, strapping, and healthy — cradles Sean in his arms and gives him the only succor he can. After Sean cums on his stomach, Nathan wipes it off with tissues, and they laugh, because cum, in all its messiness, is a reminder of life.
And then there's straight-up joke cum. In the Palme d'Or winning The Square, Anne (Elisabeth Moss) and Christian (Claes Bang) fight over a cum-filled condom after they have sex. She wants to throw it out, but he's paranoid she might try to impregnate herself with the contents, so he refuses to give it to her. They struggle to the point where the poor condom is stretched nearly to its breaking point. Finally, he throws it out, only for her to run off with the trash can.
Meanwhile, over on television, Insecure won the distinction for the most memorable cum shot of the year — a full-on turkey baster to the face. In the episode "Hella Blows," Issa Rae's character, Issa, gives her sometimes-lover Daniel (Y'lan Noel) a blow job when — despite requisite verbal warning! — he cums in her eye. It's a climactic moment in their relationship that culminates in a major blowup between them (and has Issa dabbing her eye for the rest of the day). Even though the scene is played for its comedy, it also brings up Issa's own anxieties about the power dynamic when black women give men head (she thinks it makes the woman seem demeaned and disposable). Boy, what a difference a year has made: It was not so long ago that HBO reportedly got soft about showing an arcing cum shot on Girls, making Insecure's arrival right on the money. "When we met with HBO, we mentioned a cum-shot scene and they said, 'You're just in time!'" Rae told me at Vulture Festival L.A. "We couldn't do that with Girls but now we can! Cum for everybody!"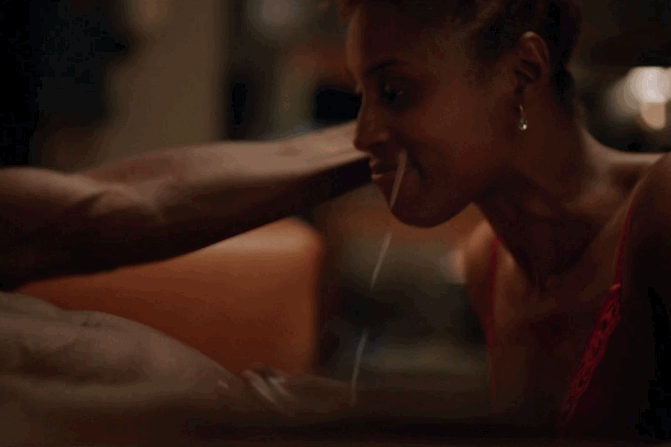 In sum, 2017's cum shots weren't needlessly provocative (although that would be fine, too), but instead added texture, flavor, humor, and intimacy to the narratives they appeared in. This cum had the range. It wasn't shy or shrinking, but alternately prosaic and messy. It's possible that cum's foray onto our screens indicates that, as a culture, we're at last becoming a little more adult about all of this stuff (or, at least, the Europeans are). Perhaps we're finally ready to acknowledge a truth we've known since time immemorial: There will be cum.