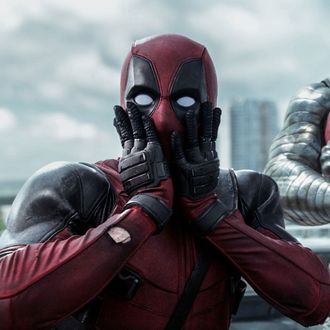 Photo: Joe Lederer/Twentieth Century Fox Film Corporation.
Now that the Disney–20th Century Fox merger is a done deal, a lucrative R-rated superhero franchise hangs in the balance: Will Disney allow the Ryan Reynolds series to stay foul, potty-mouthed, and rated R? "Deadpool clearly has been and will be Marvel branded. But we think there might be an opportunity for a Marvel-R brand for something like Deadpool," Bob Iger said Thursday in a call with media, according to The Hollywood Reporter. "As long as we let the audiences know what's coming, we think we can manage that fine."
Disney owns Marvel, but Fox acquired certain Marvel characters (like Deadpool, Logan, and the Fantastic Four) years ago, according to THR. With Disney's Fox acquisition, Deadpool 2 might be the company's first R-rated feature. On Twitter, Reynolds has joked about his character's place in Disney-Fox's blended family.