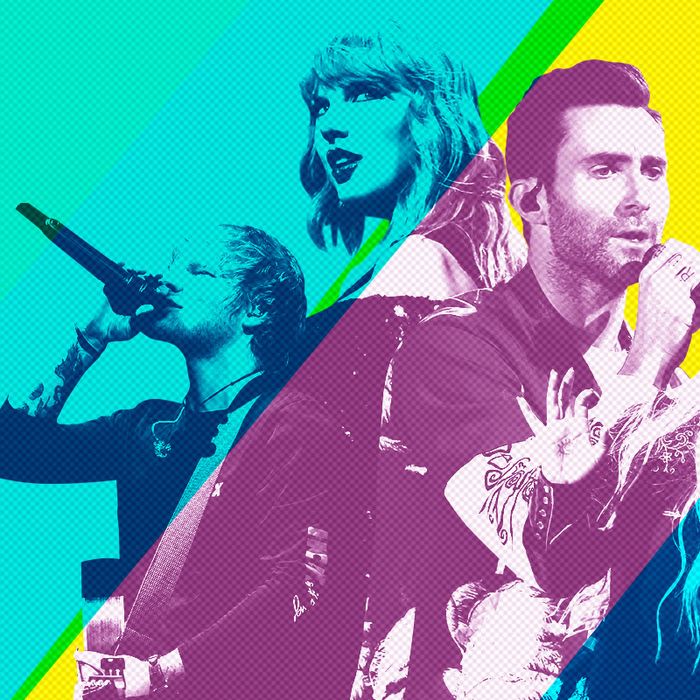 Photo-Illustration: Vulture and Photo by Getty Images
Every era of music has its own recognizable sounds, from the tightly orchestrated pop and swampy psych rock of the '60s to the plush disco and winsome adult contemporary songs of the '70s, the brazen synthetics of the '80s, and the dour guitar rock of the '90s. Changes were often tied to advancements in technology or shifts in culture: '60s music got trippy off smart multi-track recording techniques and the sudden availability of recreational mind-altering substances. Cocaine, clubbing, and drum machines ruled the percussion-forward '70s and '80s. Political flux rendered the '90s austere; widespread pirating and broadband made the aughts a cultural kaleidoscope. It's hard to catalogue these moves while they're happening sometimes, the same way it's tricky to notice long-term shifts in the structure of your face because you see it in the mirror every day. Change is best charted over time.
In writing about many of the biggest pop records since January, I started to notice similarities across the board that weren't as pronounced in years past — sounds were shared by artists who didn't work in the same sphere or even the same country. This is different from producers having a signature sound, like the standing four-counts and zany key changes of a Pharrell vehicle or the drowsy, gauzy synths and samples favored by Drake's right-hand man Noah "40" Shebib. It feels like a conscious consolidation of the sonics of pop music, from several different hands, producers whose work, it should be noted, has escaped easy classification in the past.
Turn on your favorite pop radio station, playlist, video countdown, etc. Currently, the opening stretch of Spotify's Today's Top Hits playlist features Maroon 5 and SZA's "What Lovers Do," Selena Gomez and Marshmello's "Wolves," and the Hailee Steinfeld, Alesso, Watt, and Florida Georgia Line team-up "Let Me Go." The cast of players couldn't be more diverse: The three songs feature two teen actresses turned pop starlets, two EDM producers, the most popular soft-rock/pop band of the millennium, an ascendant rap/pop producer and session player, a CMA-certified country vocal duo, and one of the biggest emerging voices in R&B. But the records sound like they could've come from the same album.
All three songs mix mainstream "indie" flourishes — fluttering horns, folk-pop–indebted guitar licks — with fat synth lines played staccato or else broken up into choppy eighth and 16th notes, and drums that nod either to the hand claps and finger snaps of epochal post-millennial Cali rap hits like "Rack City" or southern trap beats. The mix comes out a little different each time — Hailee's song sounds like a funeral procession breaking out into a trop-house second line, while Selena's sounds like Mumford & Sons with drops — but the core ingredients are largely the same.
Not fully convinced? Cue up Demi Lovato's "Sorry Not Sorry," Lady Gaga's "The Cure," Lorde's "Perfect Places," Fifth Harmony and Gucci Mane's "Down," Imagine Dragons' "Thunder," Lana Del Rey's "Coachella — Woodstock in My Mind," Taylor Swift's "… Ready for It?," Katy Perry's "Hey, Hey, Hey," Pink's "Beautiful Trauma," Dua Lipa's "New Rules," St. Vincent's "Los Ageless," Halsey's "Now or Never," Kesha's "Learn to Let Go," and Nick Jonas and Ty Dolla $ign's "Bacon." Really skip around. The tempos match. The snaps and claps in the beat turn to high hats in the same place. The synths crest at the right time, always offset by some twee melodic touch like a horn or a guitar or a high-pitched warble. It sounds like pop stars bulking up by grabbing whatever spare parts can to make their music more formidable, like Mega Man finishing off a boss and stealing his power. Pop is reacting to the recent gains of rap and EDM by swiping both genres' trademarks. How long has this been going on?
Rap and house have been loosely conversant in each other's style and tropes since EPMD started "Housin'" and SNAP! had "The Power." Pop has been led by performers who keep tabs on new developments in dance music ever since the disco explosion. (For a modern example, see Lana Del Rey calling in the Kanye West and Kid Cudi cohorts Emile Haynie and Jeff Bhasker in 2012 for Born to Die, whose "Summertime Sadness" cleverly crossed Twin Peaks gloom and top-notch rap beats.) This new movement doesn't feel like a natural exchange of ideas, though. It doesn't carry the genuine spark of a Solange calling indie rock and R&B guys into the same room to see what they come up with together. It feels like market expansion by virtue of shrewd centrism, pop stars straining to prove that they can do everything everyone else can.
The rumblings go back a few years. Start at the tuneful synth-pop weirdos on the fringe of the early 2010s dance music mainstream. M83 balanced dream-pop, shoegaze, and house music for a decade, peaking with the mammoth "Midnight City," which perfected group architect Anthony Gonzalez's knack for making big synth sounds hit like guitars. The Canadian duo Purity Ring added a brash hip-hop flair with "Ungirthed" and "Fineshrine," which led to work with the rapper Danny Brown. The Scottish group Chvrches added a pop-like sheen to singles "The Mother We Share" and "Leave a Trace." U.K. singer Jessie Ware fused windswept indie rock and '80s rap drum sounds into a hit in "Wildest Moments." U.K. singer Charli XCX's 2012 breakthrough single "You (Ha Ha)," Fault in Our Stars soundtrack cut "Boom Clap," and the chart-topping 2014 Iggy Azalea collaboration "Fancy" predicted the sound of modern radio more than either artist will ever get credit for.
Everything changed when Taylor Swift came sniffing around. By the time she'd conceptualized the '80s revisionist theme of 1989, there was already a working retro-themed pop apparatus in place spawning real hits. (The synth-pop grooves of Kiss-era Carly Rae Jepsen tunes and the tropical vibes and Miami Vice iconography of Drake and OVO Sound signees Majid Jordan's "Hold On, We're Going Home" look less delightfully left-field than quietly prescient in this context.) Swift applied her champion ear for melody and the machine-shop precision of her producers Max Martin and Shellback (with a little help from Fun. alum Jack Antonoff) and came out with gargantuan smashes in "Style" and "Out of the Woods," archetypal exercises in pop's new maximalism, thanks to a winning fusion of '80s Top 40 instrumentation and the blissed-out wall of sound cribbed from the dance-pop upstarts from overseas.
The knock against Taylor Swift records is that they neatly summarize pertinent developments in the music of the present when they could be using their power to point the way to the future. To that end, 1989 is an important album for sheer reach and craft, but it's not necessarily visionary. It wasn't hip to what was boiling in the clubs, a truth driven home in 2015 by Justin Bieber's more daring but maybe less polished Purpose. Bieber, Skrillex, Blood, and Diplo cast their lines further out on "Sorry," "What Do You Mean," and "Where Are Ü Now," working trap, house, and dancehall influences into R&B and making the mix a permanent presence on pop radio in the process, the de rigeur pathway to a hit in the two years since. You can hear Taylor get wise to the new rules a minute into Reputation, as the new album's opener "… Ready for It?" barrels into a powerhouse tropical house chorus after the first verse. Reputation incorporates splashes of hip-hop and EDM production values 1989 overlooked, but it marks the first time Taylor Swift feels palpably late to the party. Like everyone else, she's trying to match what's on the market rather than distinguishing herself from it.
Just about every big pop release of the last two years has offered up a variation of what "… Ready for It?" would end up sounding like, but in most cases they haven't been the records making the biggest waves. Ed Sheeran's fake-dancehall jam "Shape of You" aside, 2017 has been dominated by strange pairings like Luis Fonsi, Daddy Yankee, and Justin Bieber's "Despacito" remix and the Post Malone and 21 Savage collab "Rockstar," or else gritty genre exercises like Kendrick Lamar's "HUMBLE." and Cardi B's "Bodak Yellow (Money Moves)," which famously knocked Swift's bad rap comeback "Look What You Made Me Do" out of the Billboard Hot 100's top billing.
Reputation notwithstanding, the biggest albums of the last two years were either stylistic retrenchments — Drake's Views, Adele's 25, the Weeknd's Starboy — or winning displays of growth — Kendrick's DAMN., Bruno Mars's 24K Magic, Beyoncé's Lemonade, Bieber's Purpose. The singers buying studio time with Antonoff, Martin, Shellback, Greg Kurstin, etc. to workshop facsimiles of each other's hits aren't aiding the plight of pop music, which, in spite of a year of good albums, spent months lagging behind rap and country in sales. In 2017, the Billboard 200 chart is a place where a Kenny Chesney double live album can outsell a great new Kelly Clarkson album three equivalent units to one.
Pop's not in crisis per se — most of the aforementioned singles are doing all right for themselves even in the cases where their respective albums might not be — but it is locked in a losing battle to match steps with the infinite, effortless cool of young, savvy rappers, as the Taylor Swift–Cardi B Hot 100 baton pass and the enduring successes of Future, Lil Uzi Vert, 21 Savage, the Migos, and Kendrick Lamar illustrate. There's big money in sticking to your guns, as the huge paydays of the most recent Drake and Adele albums and the respectful first week haul of Sam Smith's soul and gospel-infused The Thrill of It All accentuate. And you can still reach No. 1 and tour the world successfully behind a smart stylistic left turn. See: Harry Styles's classic-rock solo album, Kesha's hard-rock- and country-tinged Rainbow, and Lady Gaga's country-pop detour Joanne. They aren't reinventing the wheel, just leaning into unexpected corners of their spheres of interest. (It was harder to flop than it seemed this year. You had to really try.)
I've heard a few friends and colleagues rail against what one buddy cleverly referred to as the "Antonoff-ization" of pop music. (Indeed, Jack Antonoff has co-produced or co-written enough of the songs mentioned above that synth-pop riffs like the ones in "Beautiful Trauma" and "Out of the Woods" signal his involvement almost as cleanly as a producer tag.) I don't think it's his or any in-demand producer's fault that pop music feels like it's folding in on itself. They're just perfectionists providing a service a little too cleanly. I do believe that pop, as an art form and a business, is letting its capitalist roots show by zeroing in on a median sound and simply cloning it ad infinitum. The tactic only works for so long before interest trails off. Why give time to prim midtempo love songs that cynically call up tasteful hip-hop beats for momentary tension release when real street rap is delivering on hooks, style, and attitude? Audiences don't quite seem to know anymore.