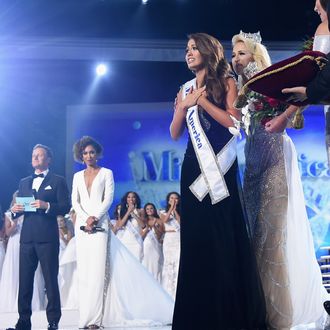 Photo: Michael Loccisano/Getty Images for Dick Clark Productions
Dick Clark Productions will no longer work with the Miss America Organization after sexist, crude emails from the beauty pageant's CEO, Sam Haskell, were leaked. DCP, which previously produced the annual pageant, said it has cut ties with the organization after learning of the emails "months ago," according to Deadline. Excerpts from the emails were published Thursday by HuffPost. The messages showed Haskell regularly body- and slut-shaming former winners, and plotting to troll news anchor and former Miss America winner Gretchen Carlson.
In a statement to HuffPost, DCP said they pushed for an investigation into the emails when they were made aware of the messages, and then cut ties with the organization. "Several months ago, dick clark productions [sic] was made aware of a portion of the emails that were referenced in the December 21 Huffington Post article. We were appalled by their unacceptable content and insisted, in the strongest possible terms, that the Miss America Organization (MAO) board of directors conduct a comprehensive investigation and take appropriate action to address the situation," the statement said. "Shortly thereafter, we resigned our board positions and notified MAO that we were terminating our relationship with them." The 97th Miss America Pageant will air on ABC September 10, 2018.