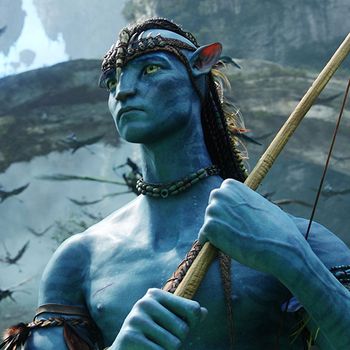 With the Walt Disney Company's announcement Thursday that it had reached a megadeal to buy most of the assets of 21st Century Fox for $52.4 billion (plus another $13.7 billion in assumed debt), Hollywood watchers have been working overtime trying to parse the merger's overall entertainment-industry impact. Will it yield a Reese's "Your chocolate's in my peanut butter" corporate synergy between two behemoth TV-movie-internet companies — or mark the birth of a terrifying new media monopoly? And will the FCC, which under the Trump administration has turned a surprisingly cold shoulder to mergers, put a stop to the whole thing? There are plenty of unanswered questions, but there are few broad areas where certain outcomes seem more likely. Let's break down what we (think) we know so far:
Avatar joins the Mouse House, along with all Marvel properties.
Thanks to long-standing, immensely complex licensing deals, Fox has had exclusive access to a number of beloved characters from the Marvel comics canon that do no appear anywhere in the Marvel Cinematic Universe already controlled by Disney. But in a development Vulture explores in greater depth here, Disney chief Bob Iger has been quick to point out the new pact provides the company "with the opportunity to reunite the X-Men, Fantastic Four and Deadpool with the Marvel family under one roof and create richer, more complex worlds of inter-related characters and stories." (Or, as Ryan Reynolds tweeted yesterday, "Time to uncork that explosive sexual tension between Deadpool and Mickey Mouse.")
Moreover, the merger means Disney grabs the rights to a number of other Fox-controlled film franchises, including Alien, Planet of the Apes, Predator, even Independence Day. But chief among them will be director James Cameron's envelope-pushing, $3 billion–grossing Avatar (and its impending sequels), which the new Disney-Fox can exploit across all media platforms, as well as its theme park divisions. In what now seems like a presciently preemptive move, in May, Disney's Animal Kingdom resort in Florida opened The World of Avatar, an immersive, 12-acre fantasyland based around the film's bioluminescent forests, floating mountains, and otherworldly, Smurf-hued Na'vi aliens that has already become one of the park's hottest attractions.
And over the last two years, Disney has dominated the year-end box office with 2015's Star Wars: The Force Awakens and last year's Rogue One estimated to have pulled in 40 to 60 percent of around a billion dollars in ticket sales from that time frame. So with the next three Avatar installments set for release in the Decembers of 2020, 2021, 2024, and 2025, Disney could continue to dominate winter holiday movie fare for years to come.
Disney will now own all the Star Wars movies.
Fox's earlier incarnation — 20th Century Fox — distributed the original two Star Wars movie trilogies. And for generations, the studio's snare-drum-and-horn fanfare has become as inextricable a part of the viewing experience as John Williams's score. While Disney acquired Lucasfilm in 2012 for $4 billion, Fox held on to the home-video and digital distribution rights of those original films in perpetuity, as well as complete and permanent distribution rights to 1977's first Star Wars installment (a.k.a. Episode IV: A New Hope).
All of that goes to Disney in the deal. So for Star Wars obsessives, the most significant development of the new Disney-Fox will be an all-but-inevitable release of what's been called the "total package": a complete Blu-Ray DVD box set of all the Star Wars films. Pent-up fan demand for a product like this can't be overestimated. And it's set to become a significant revenue stream come the 2019 release of Star Wars Episode IX — the conclusion of the long-running sci-fi serial's third trilogy.
Hulu will probably get a lot bigger.
Until now, Hulu has operated as a joint venture, controlled by three big conglomerate stakeholders (Comcast's NBCUniversal, Fox, and Disney) and one smaller partner (TimeWarner, which last year bought 10 percent of the company). But once the Disney-Fox deal is done, Disney will have a controlling stake in Hulu and an incentive to dramatically bulk up the streamer's offerings — and turn it into an even bigger rival to Netflix. During the buildup to the merger, there'd been some uncertainty as to whether Disney might simply ditch its previously announced plan to build a family-focused version of Netflix and instead concentrate on making Hulu its big streaming play. But Iger today said he wants to do both. "Our goal on the direct-to-consumer front in the United States is to go out with essentially a family-oriented product with Disney and Pixar and Marvel and Lucas that's going to launch in 2019; a sports product from ESPN in 2018; and [what will] probably be a more adult-oriented product from Hulu," Iger told CNBC's David Faber, adding Disney would "give consumers the ability to buy all three, or to buy them individually."
Iger's comments offer the tantalizing possibility that Hulu could become not Netflix — a service which aims to offer something for everyone — but a more focused streamer aimed at delivering the sort of premium, awards-bait content seen on HBO, FX, and, to a lesser degree, ABC (think American Crime or Modern Family at its peak). In fact, with FX and FX Productions headed over to Disney as part of today's deal, it's not hard to imagine the brain trust that has made FX so successful — headed up by FX Networks chief John Landgraf — taking over creative control of Hulu. Think of it: The first streaming outlet to win a best series Emmy (The Handmaid's Tale) essentially merging with the first basic-cable network to win a best actor Emmy (Michael Chiklis, The Shield). Landgraf has already been moving FX toward a future where consumers pay directly for its content, this year partnering with Comcast for FX+, which lets folks pay $6 a month to watch current and past FX shows sans commercials. Giving him control of an even bigger playground, one with a proven digital infrastructure able to better monetize shows like You're the Worst and The Americans better than old-school cable, seems like a no-brainer.
There are plenty of roadblocks to such a scenario, however. Landgraf may have no desire to take on a bigger footprint with Hulu, or to dilute the brand he's spent so long building.  It's also not entirely clear Disney can do whatever it wants with Hulu, even if it will have a controlling stake in the streamer. Analysts such as BTIG's Rich Greenfield argue Comcast, for example, could veto any major shift in direction. "Disney will not be able to make major structural changes to Hulu following the closing of the Fox transaction without Comcast/NBC's consent," he wrote in an analyst's note this week. In his interview with Faber, Iger admitted "it's still a bit early right now what direction we'll take" with Hulu, perhaps a concession to the complexities of the streamer's current ownership deal. Still, Iger suggested Hulu's other owners might be convinced: "We think it's going to provide Comcast with an interesting opportunity, as well, as we seek to grow Hulu in even more compelling ways."
It should also be noted Hulu's current management had already been anticipating future changes. Even as it's been adding more library content from partners like Fox and NBC, it's also been beefing up its own slate of originals with an eye on the possibility that, a few years from now, it might not be able to offer consumers next-day episodes of shows from ABC, NBC, and Fox. This year also saw Hulu morph from a straight-ahead streamer to a more full-service video provider: Hulu with Live TV essentially makes it a digital cable company, on par with YouTube TV or DirecTV Now. These changes should allow Hulu to survive even if Iger can't fully realize the vision for Hulu he hinted at today.
Award-season player Fox Searchlight could make Disney more prestige-y.
Less on-brand for Disney is Fox's specialty film division Fox Searchlight, which has developed into an awards-season hothouse over the last few years, releasing such best picture Oscar winners as 12 Years a Slave, Birdman, and Slumdog Millionaire. Earlier this week, Searchlight scored multiple Golden Globes nominations for Three Billboards Outside Ebbing, Missouri and Guillermo del Toro's The Shape of Water, as well as seven SAG Awards nominations for its 2017 releases.
A respected player in the indie sector and dominant acquisitions force at the Sundance Film Festival, the specialty label is known for finding and cultivating quirky low-budget films into cultural sensations. This is well outside what has been Disney's normal purview up to this point: tentpole fare and four-quadrant crowd-pleasers in the Pixar-Marvel-Lucasfilm vein. Toward that end, Disney has largely removed itself from the awards scrum, aside from animation (best animated feature Oscars for Big Hero 6, Brave, Frozen, Inside Out, etc.) and technical achievements (a best makeup Academy Award for The Chronicles of Narnia: The Lion, the Witch and the Wardrobe).
Difficult as it may be to imagine Disney releasing Searchlight's lo-fi, Sundance-certified hits like Patti Cake$ and Step, however, the most obvious upside would be to the company's streaming service, set to launch in 2019, which will need a steady supply of prestige product if it wants to make a viable run at Netflix. That said, Iger has refused to say whether Searchlight will continue to function as a distinct division under Disney management.
The Fox network as we've known it is (probably) over.
A few weeks ago, when the Fox-Disney deal was still in the rumor stages, we argued such a pact could mean drastic changes to Fox Broadcasting Co., a.k.a. the Fox network. Nothing Murdoch said today changes our theory. Sure, the Fox founder talked about the idea of FBC buying entertainment programming from an independent studio such as Sony, Lionsgate, or Warner Bros. (Some Hollywood insiders are already speculating the new Fox could snap up a smaller outlet such as Sony, or perhaps strike an output deal guaranteeing scripted content.) But Murdoch and his sons Lachlan and James also emphasized, over and over, that the new Fox would be focused on sports, news, and live events. That seems to be a broad hint they know an FBC without a major studio partner such as 20th Century Fox TV doesn't make much sense in a world where the major value of scripted programming is the back end, something that requires a network to own the shows it airs.
This doesn't mean FBC won't have any scripted shows a couple years from now. Its NFL, World Series, and other sports rights will give it a great platform to promote a couple of big, male-focused original series every season. It could also snap up or produce some low-cost scripted programming (think something like Syfy original movies or BBC America's Orphan Black), content that pays for itself via ad revenue and helps maintain the value of Fox's local TV stations. Reality shows will also have a place on the new FBC, even more than now. And without having to worry about pissing off the prestige advertisers who sponsor premium scripted shows, the new FBC might not think twice about programming, say, The Sean Hannity Good-Time Conspiracy Theory Hour every Friday night. But, as one top network exec told Vulture Thursday, "The days of a full schedule of full-priced Fox programming? That seems to be dead and buried."
The Simpsons, Family Guy, and Bob's Burgers could be on the move — or on their way out.
Ratings for FBC animated stalwarts The Simpsons and Family Guy have fallen sharply over the last few years — like most everything else on TV — even as the shows' production budgets remain sky-high. Fox has dutifully renewed the shows, however, because its 20th Century Fox TV unit owns them and is able to extract millions of dollars in profit from selling reruns to cable networks and local stations, more than making up for the losses at the network level. Once FBC and 20th are divorced, however, it's hard to see how the new FBC makes the economics work — or why Disney would want two of its new crown jewels airing somewhere else.
In the short-term, not much will probably change. The Simpsons has a deal in place with FBC keeping it on the network through the 2018–19 season, which happens to coincide with the show's 30th anniversary. At that point, it's possible Disney will find a way to move the show to either ABC or one of its new streaming services, perhaps producing fewer than 22 episodes each year. (FXX, which is also headed to Disney, already airs reruns of the show and operates a Simpsons streaming app.) Or maybe the creative team behind the show will simply decide 30 years is (finally) enough, and walk away, perhaps working with Disney on a new way to keep the Simpsons brand alive. (Side note: NBCUniversal currently has a deal for the theme-park rights to The Simpsons, so don't expect a Simpsons ride at DisneyWorld any time soon.) As for Family Guy and Bob's Burgers, they are much younger shows, and less expensive, with Bob's actually turning into something of a powerhouse on basic cable in recent years. Disney would have plenty of incentive to keep making originals of both, either for ABC or one of its new streaming services.