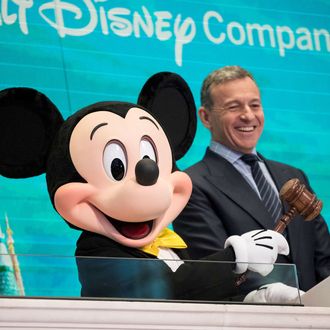 Disney makes it official.
Photo: Drew Angerer/Getty Images
The Walt Disney Co. has announced that it is acquiring most of 21st Century Fox in a deal worth $52.4 billion. The deal has been in the works for weeks, and includes Fox's film and TV studio, the National Geographic and FX cable-channels business, regional sports networks, international networks (including Star of India and and Sky of Britain), and Fox's 30 percent stake in Hulu. Fox News, the Fox broadcast network, and FS1 sports channel are not included in the deal, as previously speculated. Before it passes, the deal must be approved by antitrust regulators, and may face some opposition from Trump's Justice Department, which recently moved to block the AT&T–Time Warner deal.
If passed, the Fox deal would position Disney as a stronger competitor against conglomerates like Facebook, Google, Amazon, and Netflix. The studio recently announced plans to launch its own streaming services (one built around ESPN) and Fox's production capabilities would help it compete with those tech giants. As a result of the deal, Disney will hold a majority stake in Hulu, though Comcast and Time Warner also have stakes in that service. In order to oversee the deal, Disney CEO Robert Iger has also announced he'll extend his contract through the end of 2021. The deal may also have far-reaching consequences for superhero properties (Disney owns Marvel; Fox has had the rights to the X-Men) as well as theme park rights — perhaps we may finally get a Greatest Showman ride at Disneyland.