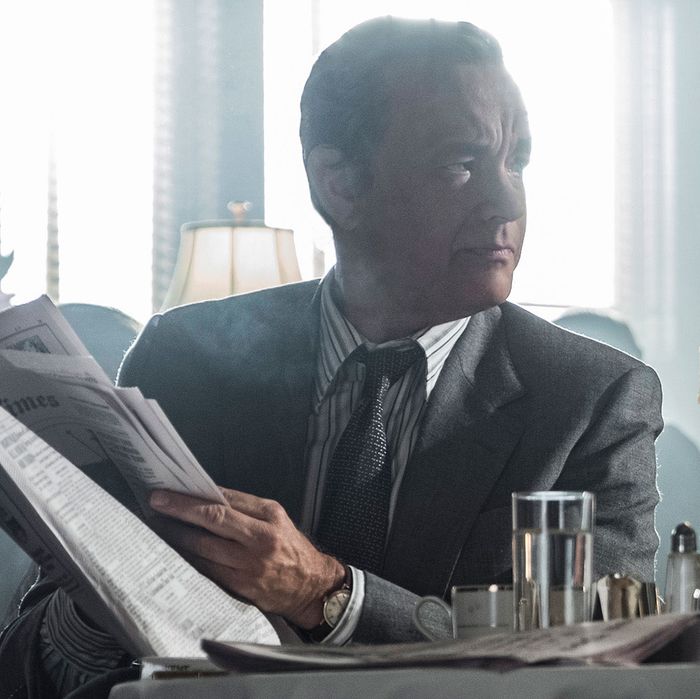 Photo: Niko Tavernise/Twentieth Century Fox Film Corporation.
Light spoilers below for The Post.
Steven Spielberg's new movie The Post dramatizes the backstage agita that preceded the Washington Post's decision to publish the Pentagon Papers over President Nixon's objections in 1971. Since we know, obviously, that editor-in-chief Ben Bradlee (played in the film by Tom Hanks) and publisher Katharine Graham (Meryl Streep) did ultimately decide to run stories based on the papers, suspense is pretty much off the table — so most of the fun comes from watching Streep and Hanks hammily dismiss warnings from business-side execs about how exposing government lies about the Vietnam War might screw up the newspaper's impending IPO. And we also know, of course, that Spielberg rushed the movie into production after last year's election, intending for viewers to find parallels between the story onscreen and the real-life journalistic conditions of 2017. Watching The Post with all of this in mind, one scene made us wonder if Spielberg and his screenwriters, Liz Hannah and Josh Singer, were subtly trying to tell us what they think about the hot trend among so many beleaguered digital publications this year, the pivot to video.
About halfway through the movie, Washington Post Company chairman Fritz Beebe (Tracy Letts) makes a plea to Bradlee: "This is about the future of the company. You could jeopardize the public offering — you could jeopardize our television stations!" (At the time, the Washington Post Company supplemented its text-based journalism with ad-friendlier video-content broadcast on TV stations in Hartford, D.C., Miami, and Jacksonville.)
To which Bradlee snorts: "You think I give TWO SHITS about the television stations?"
"You should," says Beebe. "They make a hell of a lot more money than you do, and without that revenue we'll be forced to sell. If the government wins and we're convicted, the Washington Post as we know it will cease to exist."
"If we live in a world where the government can tell us what we can and can't print then the Washington Post as we know it has already ceased to exist," Bradlee replies.
In conclusion, Spielberg probably liked Mashable better without all those autoplay videos.