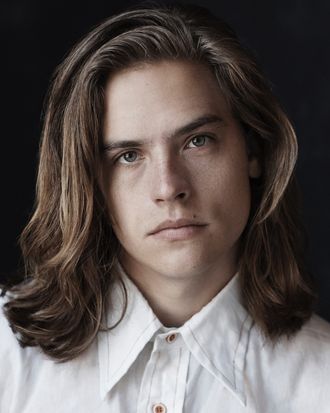 Dylan Sprouse.
Photo: Rowan Daly
In 2013, ex–Disney Channel star Dylan Sprouse turned up behind the counter of a coffee shop in the East Village, pouring lattes and craft beers. It startled more than a few customers.
"I think they were just confused," Sprouse says. At 25, he retains the wide-grinned mischief of his Disney Channel days, and his lustrous blond hair has grown down to his shoulders. "I was just doing what I impulsively thought I needed to do. And I knew I'd have a great time doing it." At the time, he felt obliged to reassure his fans, via Tumblr, that he wasn't struggling or destitute. "People would come up to me and be like, 'You must have fucked up.'"
Along with his brother, Cole, Dylan Sprouse is best known as one half of the Sprouse twins, the identical-twin duo who starred in 158 episodes of the Disney Channel series The Suite Life of Zack & Cody, and its spinoff, The Suite Life on Deck, not to mention The Suite Life Movie and the That's So Suite Life of Hannah Montana crossover special. At the height of Zack & Cody, they were earning a reported $40,000 per episode combined, and on track to be a sibling phenomenon of Olsen proportions.
In 2011, the twins withdrew from the public eye in extraordinary fashion. They quit the Suite Life, and the Disney Channel, and enrolled at NYU — Dylan embarking on a course in video-game design, and Cole studying photography. The two had been an onscreen package deal since they were 8-month-old co-stars in a diaper commercial. For much of their lives, and especially during the seven years of Zack & Cody, their very inseparability and interchangeability have been essential to their collective appeal and identity.
But lately, they've forged their own, distinct paths. Earlier this year, Cole reemerged in Riverdale, CW's shadowy Archie series, playing a raven-haired Jughead. In August, he won the Teen Choice Award for Choice TV Actor in a drama. Dylan is becoming increasingly visible, too ("Dylan Sprouse is New York's newest party boy," W magazine declared after he was spotted at Heidi Klum's Halloween party, dressed as Fabio), but, career-wise, he's sticking to the fringes.
In fact, his choices suggest a deliberate retreat from the mainstream and into the more esoteric corners of geek culture. He's lent his voice to an upcoming RPG video game, plays Dungeons & Dragons in a YouTube/Twitch web series, and is developing an animated fantasy-series project of his own, set in ninth-century Scandinavia and populated by characters with names like Garm, Wotan, and Kvelduf.
His screen-acting work has been determinedly under the radar, too. This year, he shot an Italian neorealist-style short film, Carte Blanche, playing a hot young actor who has a breakdown, and starred in the video-on-demand thriller Dismissed as a sociopathic student. A couple of days after we spoke, he played a part in The Illuminati Ball, a promenade theater production in Brooklyn, and started shooting an indie comedy called Banana Split in early December.
"I think Cole's in a place where he's very happy right now," Dylan says, "whereas I would be happiest doing more films with a lower budget — independent, expressive, really small-scale. I tend to enjoy roles that I very closely identify with: fringe people and complicated characters, who might even be bad guys, or bad characters that have one redeeming quality. That's closer to my idea of what my acting trajectory should be."
Lately, most of Sprouse's attentions have been focused on his yet-to-open Williamsburg bar, the All-Wise Meadery, originally meant to open its doors in the summer, then the fall, but almost certainly opening, Sprouse assured me, by the end of winter.
Sprouse developed a passion for brewing while studying at NYU, at first to avoid having to get a fake ID. He eventually acquired that fake ID anyway, but kept brewing — making beer, vodka, moonshine, and bourbon — and interned for a time at a Brooklyn bourbon distillery. He became especially fond of mead, and hit upon an early form of his current recipe a couple of years ago. "I really developed a love for it," he says, "as an expression [of myself]."
Sprouse's bio on the All-Wise Meadery website — he's listed as "Head Mazer" — omits his House of Mouse past and notes that, when he is not brewing, "he is 'managing' things and often having a glass or two with patrons."
"I'll definitely be doing that," he promises. "I'm a people person. That's my bread and butter." Sprouse says he's happiest when showing everyone else a good time. The eagerness to please is partly due to his Disney media training, he's realized — he and his brother were holding court on morning talk shows well before their teens — and not always a positive thing.
"I had to unlearn a lot of things that I had learned going to school. I used to be very scared of silence because I felt it was my responsibility to keep people occupied," he explains. "That definitely spawns from an insecurity in myself. When people aren't enjoying themselves, when I'm involved, it somehow comes back to it being my fault. But I do want people to have a good time."
One challenge of interacting with the public, which Sprouse encountered during his coffee-shop stint: the phrase "former child star," either uttered in a scandalous whisper or thrown in his face. "That term is so derogatory. Isn't it always derogatory? Even 'young actor' sounds better," Sprouse says. "You're already in a box. But they put you in a smaller box inside that box. It also implies past tense. It implies you've already failed, right? I was actually naïve enough to think that people wouldn't think of it in that way."
In 2013, another Disney Channel alumnus, Joe Jonas, spoke at length to New York about the burden of being a Jonas Brother: the stifling pressure to conform and the desperate urge to defy his squeaky-clean image. Sprouse didn't empathize. "I think it's bullshit that they were being robbed of choice or creativity," he wrote of the Jonas Brothers at the time, again on his Tumblr page. "If they wanted too [sic], they could have told Disney 'NO'. Cole and I did this hundreds of times and we ended up all right. The only reason they didn't is because, like many of the people on that channel, I think they fell for the allure of fame." For their part, the Sprouses quit The Suite Life after Disney refused to give them the level of creative control they desired. "I mean, we had a really awesome idea for where the show needed to go. We were 18," he says, meaningfully. "If that isn't old enough to know exactly what the show needs, then … well, I would beg to disagree." (He also recalls that they picked their roles for themselves in the first place: Dylan a natural fit for the impudent Zack, Cole opting for the upstanding Cody.) "I don't think [Disney] were willing to work with us, really ever. So we stopped the show."
But Sprouse has no regrets or ill feelings about any of it. If anything, apart from the "former child star" jibes, he's remarkably indifferent. "Meh," he says with a theatrical shrug, then laughs. "I'm not one of those people that looks back at that experience and says, Oh, I want to rebel. I don't care that much. It's only stood to benefit me most of my life. I'm opening up my brewery because of it" — Sprouse put "most" of his money into it, he says — "so I can't complain that much."
Life after Disney did bring some more existential challenges into focus. For one class assignment, Cole wrote an essay about the dual burdens of identical twindom and celebrity: "When you are born into a body that takes the image of another, you ask yourself a question much like the famous 'chicken and egg' conundrum. Do you take the form of he or does he take the form of you?" Cole called the twins' ostensible relationship a "media dramatization" — the behind-the-scenes reality, he suggested, was far more competitive, even claustrophobic.
Sprouse is wary of speaking for Cole, but admits that the two of them discussed the feelings in Cole's essay in some detail. "Those things always exist with your siblings," he says, "especially if you're twins. People always want to compare you. But any sort of competition and claustrophobia that my brother and I have felt is usually enforced, either societally or through the media. And our primary role as each other's, you know, not only twin, but biggest supporter, is to dispel that with each other. Right? Through conversation, and through, just, love."
By the time the brothers graduated in 2015, they were untroubled enough by their twindom that — in a switcheroo worthy of Zack & Cody — they traded places and accepted each other's diplomas.
They do hang out — "We got hamskied in a bowling alley just on the weekend," reports Sprouse — and continue to look at their fame with some amusement. Dylan cracks up at the mention of the old Zack & Cody video games ("They're not exactly renowned"), but will proudly point out that "we have marijuana strains named after us." They're even intimately familiar with one of the creepier by-products of celebrity: Zack and Cody/Cole and Dylan twincest erotic fan-fiction. "We used to troll each other with that gross-out shit," he says. "It's … pretty gross. But it's funny as fuck, come on. Some people get really creative."
Archie aficionados (and Sprouse enthusiasts) have pointed out that, in the comics, Jughead has a familial doppelgänger of his own, named Souphead. Slim chance of Dylan making a Riverdale cameo, though. "Don't tell my brother," he says, "but I've only seen the first episode."