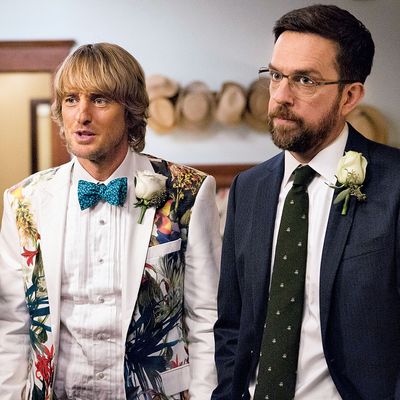 Owen Wilson and Ed Helms.
Photo: Daniel McFadden/Courtesy of Warner Bros
In the buddy comedy Father Figures (previous title: Bastards), Ed Helms and Owen Wilson star as brothers who set off on a road trip to find their real father. So we asked Helms and Wilson to compile the perfect road-trip playlist from a few recent-favorite songs.
"Subterranean Homesick Blues" by The Lumineers feat. Andrew Bird (selected by Helms)
Helms: The DNA of this song is just so rich, and it gets a little reinvention with some fresh voices. It's definitely more Lumineers-y, and then Andrew Bird is just … I saw this really cool secret concert he did a few weeks ago at a guitar store. It was him, Blake Mills, and a few others. He is so transcendent. He's a magician.
"Precious Angel" by Bob Dylan (Wilson)
Wilson: I think that's a Townes Van Zandt cover? I'm pretty sure Lucinda Williams covered it too. [Editor's note: It was originally written by Bob Dylan. Lucinda Williams never covered it.]
Helms: Townes has to be the most covered dude of all time.
Wilson: Full disclosure: My brother Luke helped me with my list.
 "At the Purchaser's Option" by Rhiannon Giddens (Helms)
Helms: I just love her style — Americana-style music, that whole sort of thing is right up my alley. And Rhiannon also went to my alma mater, Oberlin.
Wilson: By the way, why are we weighing in on music?
Helms: Because our movie is a road-trip movie.
"The May Queen" by Robert Plant (Wilson)
Wilson: The great Robert Plant. "The May Queen"… I mean, you get it right from the title! You get in there and just go to town! "The May Queen." Listen to this song.
Helms: It has a really nice groove. It's very Black Crowes–y.
"Dear Life" by Beck (Helms)
Helms: I love it. I got into Beck in a big way 20 years ago, in college. What was that record? Odelay. It's incredible.
Wilson: I saw Beck perform in North Carolina, and the director of the movie I was working on (Masterminds) knew Beck and asked us if there were any songs we wanted to hear. I felt put on the spot and I said "Loser," which wasn't very original. It reminded me of when, before he got elected, I met Obama in Hawaii on Oahu. A friend of mine who is an actor told me, "Get ready, because when you meet him, he's going to say an obscure movie of yours that he likes." I'm ready and excited for him to say Bottle Rocket, and I'm waiting in line, and I get up there, and he says, "I loved Wedding Crashers."
Listen to the playlist below.
Father Figures opens December 22.
*This article appears in the December 11, 2017, issue of New York Magazine.