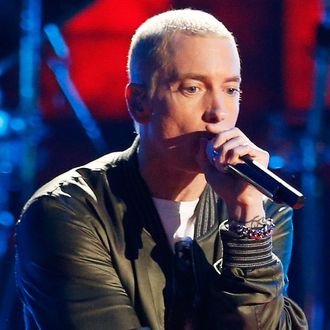 Em.
Photo: Christopher Polk/Getty Images for MTV
When Eminem appeared on the BET Hip Hop Awards earlier this year, he did so as part of a pretaped cypher, where he delivered a no-holds-barred freestyle that ripped Donald Trump to shreds. He now tells Elton John for Interview that the whole thing was meant to go down live at the show. Though the nature of freestyling implies it hasn't been rehearsed, Eminem says that wasn't the case with "The Storm." "I wrote it. The original idea was for me to go to the BET Awards and do it a capella onstage," he explains. "I went home that same day and wrote it all, but then at the last minute, plans got switched around and we filmed it in Detroit." Em, who notes memorizing lyrics isn't his strength, says it was meant to evoke the feel of Public Enemy's "You're Gonna Get Yours," and that no one else on the set of the cypher had heard his freestyle prior to the taping. Responding to John's belief that America has never been more divided, Eminem explained why he could no longer hold his tongue about Trump:
It was about having the right to stand up to oppression. I mean, that's exactly what the people in the military and the people who have given their lives for this country have fought for—for everybody to have a voice and to protest injustices and speak out against shit that's wrong. We're not trying to disrespect the military, we're not trying to disrespect the flag, we're not trying to disrespect our country. But shit is going on that we want to make you aware of. We have a president who does not care about everybody in our country; he is not the president for all of us, he is the president for some of us. He knows what he's doing.




As long as he's got his base, he does not give a fuck about anybody else in America. But guess what? There's more of us than there are of them. I still feel like America is the greatest country to live in. This is my opinion. But we have issues that we need to work on and we need to do better.