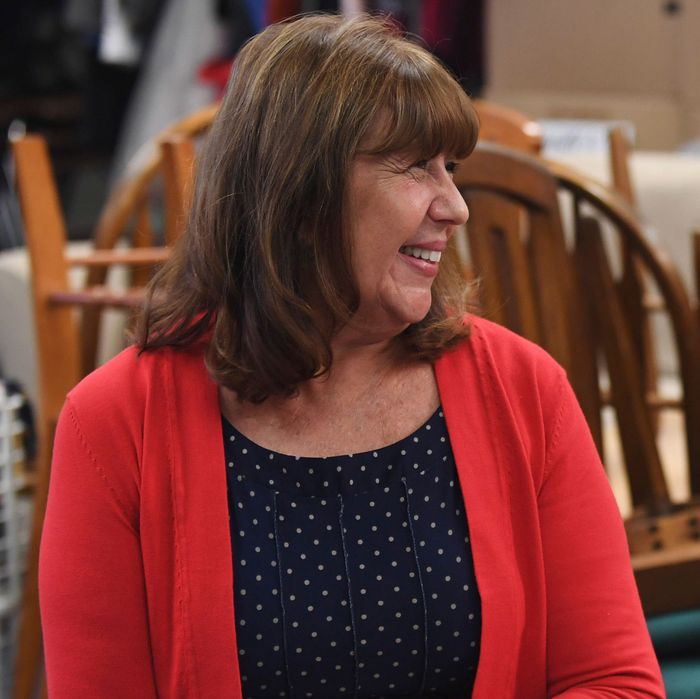 For the small slice of the American population that participated in high-school musicals, and the even smaller sliver that is actually proud of that experience, listen up: ABC is airing a delightfully nerdy, bittersweet gift to you all this Sunday at 10 p.m. Hosted by Kristen Bell, a theater kid herself before she became a Disney princess, Encore follows a group of adults who restage their 1997 high-school production of Stephen Sondheim and James Lapine's Into the Woods. They get professional help to put on the show, but only a week of rehearsals to pull it all together. For this particular cast of former theater kids, that means hitting pause on their lives as insurance salesmen, flight attendants, and stay-at-home moms to memorize pages of dialogue, remember tricky melodies, and dance while 32 weeks pregnant.
The fun of Encore comes from getting to see adults stumble back into their high-school relationships, or realize that they never escaped them. There's the jock who was the lead in the musical, who's now working away at an office job in Orange County (at one point he mutters, "The saddest thing in life is wasted talent"); the aspiring actress who toured in Starlight Express and ended up becoming a masseuse; and the overachiever who "made high school my bitch" and still thinks she's a little better than those dorks. "I was in the cooler group," she says. "They were, like, thespians." The people who will most enjoy this show are probably a lot like those thespians, the ones who get the mixture of embarrassment and pride that comes with the ramshackle experience of a putting on high-school musical. (Encore reminds you that it's really hard to put on a musical, and that Into the Woods is a really, really hard musical.)
That's why it's no surprise that Encore's best moments come when the realities of adulthood catch up to the reunited cast. Some kept in touch; others wandered off into marriages and divorces. A few still have crushes on each other. In one scene, after a corny theater exercise where everyone has to imagine that they are their high-school selves, one woman whispers to herself, "It's not that big of a deal, everything's going to be okay." Sondheim should write a song about that exact feeling — after all, isn't that the point of Merrily We Roll Along? (Go watch The Best Worst Thing That Ever Could Have Happened on Netflix, it's like an extended version of it.)
Unfortunately, Encore only runs for an hour, so we see precious little of the actual performance. It's too bad that we don't get their full version of Into the Woods, or even just a performance of "Children Will Listen" in its entirety, but there's still a breathless feeling to watching it anyway, much like attending an actual high-school reunion. It's a delightful little idea, and it's wonderful to see something this earnest and bittersweet on TV. Plus, ABC is already looking to reunite other high school's musical casts in future Encore specials. Hey, Kristen Bell: If you need someone to reprise their role as spear holder No. 2 in The King and I, I'm available.