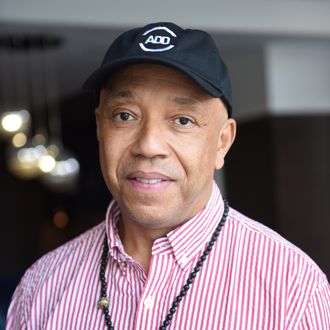 Russell Simmons.
Photo: Vivien Killilea/Getty Images for Fast Company
On the same night the New York Times released its report in which four women came forward to accuse music producer Russell Simmons of sexual assault, the Los Angeles Times published an extensive article detailing the accusations of five other women not interviewed in the New York Times. The women accused Simmons on the record of sexual misconduct and assault, with stories that spanned across three decades. The women include an actress, a hip-hop artist, a massage therapist, and a former employee. Simmons has denied all allegations.
The first accuser in the article is Natashia Williams-Blach, an actress in the Simmons-produced film How to Be a Player. She alleges that Simmons attempted to assault her after they took a yoga class together. She claims that after he made a move to kiss her and she rebuffed him, the music mogul attempted to force her to give him oral sex in 1996 when she was 18 years old. Williams-Blach described the alleged incident: "He pushes the crown of my head swiftly down while he's got his hand on his zipper. It was just a few seconds." She told him that she needed to return to UCLA where she was a student.
Erin Beattie, who was a message therapist in Seattle, told the Times that when she gave Simmons an in-room message at a hotel in 2005, the hip-hop icon exposed his penis to her. She says she refused to touch his genitals. "He just expected that that was what was going to happen," she said. "He couldn't believe I would say no."
Two of the accusers dated back to the early days of Simmons's career in New York. Sherri Hines, a member of the hip-hop group Mercedes Ladies, claims that around 1983 Simmons invited her to his office. "The next thing I knew, he was pinning me down and I was trying to fight him and he had his way," Hines said.
In 1988 another woman, Lisa Kirk, claims that Simmons allegedly attempted to assault her in the bathroom of a nightclub. Kirk, who says she had dated one of Simmons's friends, alleges that the businessman followed her into the bathroom and pushed her into a stall. He allegedly began to take out his penis, but stopped suddenly and ran out when Kirk "caught his eye."
The Times also spoke to former employees at Simmons's West Hollywood yoga studio Tantris. The former general manager, Karen Russell, claims that a yoga teacher working at the studio complained that Simmons was "aggressively pursuing" her even though she was in a relationship. When Russell took the harassment complaint to studio management, her concerns were allegedly brushed off. The boss allegedly told her that the behavior was common for Simmons and that they've "always been able to handle it and clean up his mess."
Each of the women interviewed had their stories corroborated by friends, family members, or acquaintances who confirmed they had heard the allegations either in the immediate aftermath of the alleged incidents or years after, but before other reports of misconduct began circulating.
In mid-November former fashion model Keri Claussen Khalighi claimed Simmons forced her to give him oral sex in 1991. Weeks later, screenwriter Jenny Lumet (Rachel Getting Married) also accused Simmons of sexual assault.