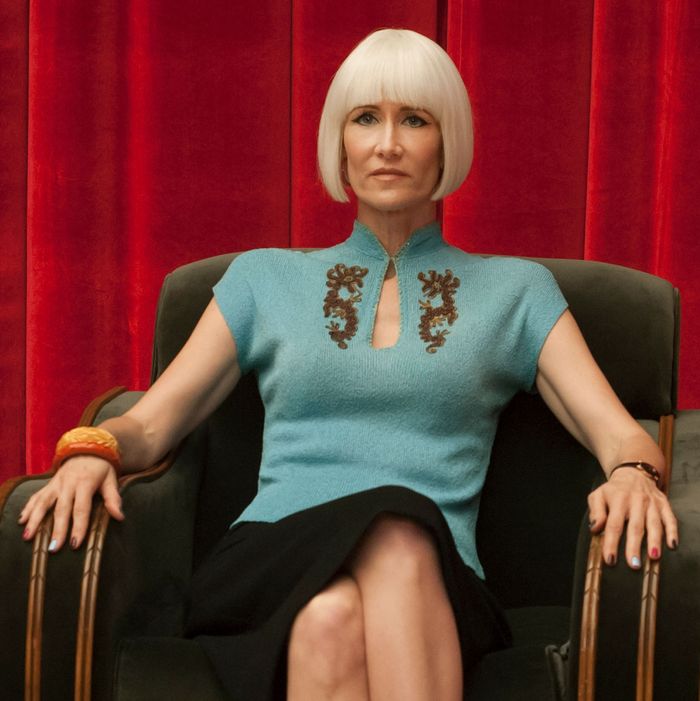 Photo: Suzanne Tenner/SHOWTIME
The Film Society of Lincoln Center unofficially declared December 14 "Laura Dern Day," marking the occasion with screenings of some of her wide-ranging roles — Smooth Talk (1985), Citizen Ruth (1996), and Wild at Heart (1990) — followed by a wildly entertaining conversation between Dern and Dennis Lim, director of programming at the Film Society.
Since Lim is also author of David Lynch: The Man From Another Place, it was no surprise that the talk was kicked off with a scene from Lynch's Blue Velvet, where Dern describes to Kyle MacLachlan her dream of robins that represent love. ("You're a neat girl," is MacLachlan's square reply to her bizarre monologue.) While Dern wittily deflected Lim's prompts to analyze her craft, she was quick to share stories of Lynch, ranging from this first collaboration to Lynch recently sending her a "Diane" meme (the one with her Twin Peaks: The Return character as Time's Person of the Year, with the headline: "Fuck You Time").
Here are five of Laura Dern's best David Lynch stories:
• "One of my favorite memories around Blue Velvet was it went to Telluride to premiere, and Kyle and I sat with David in the back of the theater to watch the movie. Once you dive in with David you learn his sensibility quite quickly, and his brilliance, his beauty, and his simplicity in what he wants. And I remember at moments that were so poignant to him, people [were] laughing, and him being struck that people were laughing. And at the horrifying moments, or insane absurd moments, he was like a giddy child who was on a ride at Disneyland. And he asked, 'Why is no one laughing?' And I thought, I have to work with this man for the rest of my life."
• Dern said her grandmother also had an affinity for Lynch: "My mother's mother, who raised me while my parents worked, is a sweet little beautiful Catholic lady from Alabama. She came to the premiere of Wild at Heart and sat between me and David. When the film ended, my grandma turned to David and put her arm around him and said, 'That film was so cute! And you know Nic [Cage] sounds just like Elvis!'"
• "David is just so particular, because he knows me so well and he only gives one-word directions. He would kill me if I tried to have a conversation about the character. He's like, 'I need wind. I need bubble gum.' And that's pretty much our relationship."
• Regarding the shared trust between her and Lynch in making the experimental Inland Empire: "A memory came to mind of being at California and Vine at three o'clock in the morning and [Lynch] wanting me to lay on my belly, on the stars, face down, in a traumatized state. And Jim [Taylor] and Alexander [Payne] had wanted me to do this in a prison cell in Omaha [for Citizen Ruth], as well. Both times I had to turn to these gentlemen and say, 'I smell urine.' These guys [Taylor and Payne] actually brought in bleach and a mop. I think David's quote was, 'Stop complaining.'"
• Even when asked about her role in Star Wars: The Last Jedi, Dern responded with a Lynch story: "I can say how lucky I am to have found David Lynch at 17. Because when I first met him and had to do press differently for him than other directors preceding that, he said, 'Your job is to tell them nothing!' So it was a seamless transition to a Star Wars movie."