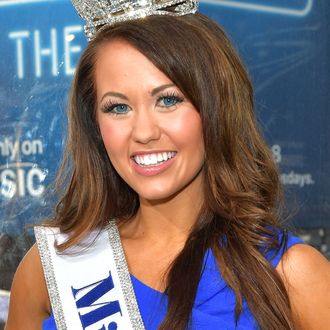 Miss America 2018 Winner Cara Mund.
Photo: Mike Coppola/Getty Images
After the Miss America Organization became embroiled earlier this month in an email scandal, MAO attempting to fill leadership vacancies created in the aftermath. Last week HuffPost reported that the organization's executive director Sam Haskell sent offensive internal emails disparaging the character and bodies of former Miss America winners. Since then Haskell, MAO president Josh Randle, board chairwoman Lynn Weidner, and another board member have resigned. Now, according to The Hollywood Reporter, former Miss Americas and state directors have been called upon to recommend to the search committee new individuals for the board, which will also operate under a new leadership structure. Dan Meyers, the group's interim board chairman, told THR:
The board wanted to have a process that was unprecedented in terms of openness, transparency and inclusion. Given the turbulent nature of leadership transitions, asking all the stakeholders to be a part of this process was the best way.
After the scandal broke, MAO's television production partner Dick Clark Productions cut ties with the pageant.
Update, December 28: Two former Miss Americas aren't thrilled with the request to help clean up the mess left by the organization's executive team. Mallory Hagan, 2013's Miss America, posted a Facebook video stating that the request is "an insult to every Miss America and volunteer's intelligence." According to her:
These people do not have the best interest of this program at heart, period. These people were presented with these emails and chose to overlook them, did nothing about them, thought this was a big fat nothing burger and voted to keep Sam Haskell and others in leadership in this program. That in and of itself should be enough for them to go.
Former Fox News commentator Gretchen Carlson, who was 1989's Miss America, also called the organization's request for the winners' help "unacceptable." She believes the only solution would be for everyone on Miss America's board to resign, "so that a new generation of leadership can step up to secure Miss America's future."