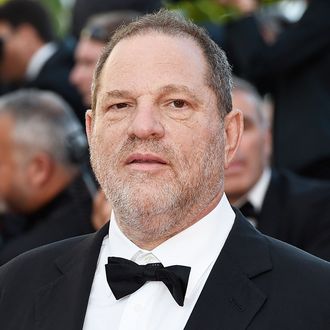 Weinstein.
Photo: Loic Venance/AFP/Getty Images
One of the many people named in the New York Times' latest investigation into Harvey Weinstein's tactics is planing to sue her former boss for sexual harassment. An attorney for Sandeep Rehal, who worked as Weinstein's assistant for two years until February 2015, tells Variety that they will file the lawsuit in federal court in New York in the next couple of weeks. Rehal, who was then 28, told the Times that Weinstein instructed her and other employees to supply him with the injectable erectile dysfunction drug alprostadil, whose brand name is Caverject. She said she was asked to keep the drugs at her desk and deliver them in brown paper bags to Weinstein at hotels and other locations shortly before his meetings with women, and that she would receive a $500 bonus for doing so. She claimed he had her use the company credit card to stock an apartment with women's lingerie, flowers, and bathrobes. Rehal also recalled having to escort Weinstein to sex-addiction therapy in 2015.
She said she complied with this behavior because Weinstein had threatened to have her younger sister kicked out of school and brought up Rehal's student loan debt, allegedly telling her, "This is Harvey Weinstein University, and I decide if you graduate." Weinstein denies making such threats or using the company card for personal expenses. Rehal's attorney tells Variety that she left the Weinstein Company due to its "intolerable work environment" and will allege that she was "sexually harassed throughout her employment" in the pending lawsuit.