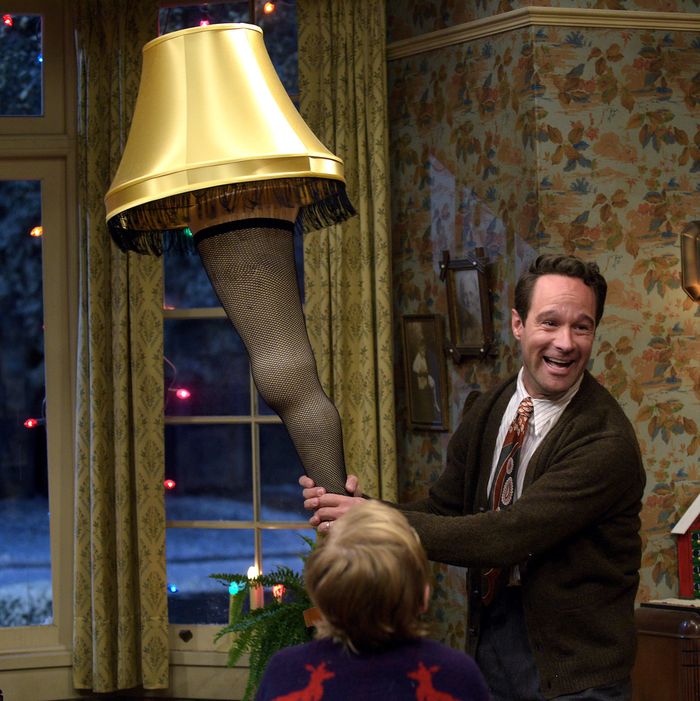 A Christmas Story Live!
Photo: Ray Mickshaw/Fox
Aside from a few flubbed lines and sound issues, A Christmas Story Live! went off without a hitch. Well, except for one big hitch: the show itself.
We at Vulture had never seen the stage version of A Christmas Story: The Musical, so this was our first look at it in any format. And we were not crazy about the adaptation of the 1983 holiday movie classic, itself an adaptation of portions of Jean Shepherd's book In God We Trust (All Others Pay Cash). Despite the fact that the stage version and the core of this TV special was written by Benj Pasek and Justin Paul, the duo responsible for Broadway darling Dear Evan Hansen, the song-and-dance take on the story of a boy who covets a Red Ryder BB gun didn't match the sardonic sensibility of its source material. There are some tender moments in the film, which runs for 24 straight hours on TBS every Christmas Eve and Christmas Day, but there's also a delicious dark streak running through it that the musical version avoided entirely. A Christmas Story Live! was too insistent on being nice, when it would have benefitted from a lot more naughty, and not just the leg-lamp kind.
The live version also turned the unseen narrator, the older version of Ralphie who's voiced in the film by Jean Shepherd, into a visible element of the show in the form of Matthew Broderick, who haunts the scenes like the Ghost of Ferris Bueller Past. On the other hand, this production gave us the opportunity to see Ana Gasteyer sing a brand new, written-especially-for-Fox song about Hanukkah. And that was kinda fun. There were some highs and some lows, and here's a list of all of them.
LOW: What on Earth was that opening number?
Nothing says Christmas like that person you definitely recognized, pop star Bebe Rexha! The singer, who you definitely recognized, burst onto the stage sporting a red plaid beret from the Fran Fine collection and sang a number titled "Count on Christmas" with a bunch of precocious children. It had nothing to do with a young boy's story of holiday despair in midcentury America, but if the youth of our nation caroling in a boundless void isn't a metaphor for 2017, I don't know what is. Who! Who! Who!
HIGH: Ambitious camera work
Staying true to the ambitions it set out with in Grease Live!, Fox filled A Christmas Story will all sorts of swoops and daring quick changes. If the show itself wasn't always the most alert, at least you could distract yourself by imagining the energy the editing room spent on keeping it all together.
LOW: Too much camera spinning!
Maybe in the next live musical, we don't need to include a nausea-inducing spin over the Warner Bros. backlot in every single scene.
HIGH: Chris Diamantopoulos's singing voice
Those who only know Diamantopoulos as Russ Hanneman on Silicon Valley may have been surprised to find that he has the voice of an angel. But those who know that his résumé includes Broadway credits like Les Misérables were probably less surprised. In either case, as Ralphie's dad the Old Man, he crooned the hell out of the word "award" during his solo number "A Major Award."
LOW: Chris Diamantopoulos is not Darren McGavin
McGavin was so perfect as the gruff, detached, secret-softie dad in the movie that it's unfair to compare Diamantopoulos to him. Yet compare I did, and Diamantopoulos wasn't quite grumpy enough to fully capture the spirit of the character. Ralphie is supposed to be justifiably scared of his dad at times, and that didn't really come through in the Fox version.
LOW: All the commercials
It's inevitable that a live musical event will feature a lot of commercial breaks. But holy carbine-action 200-shot Range Model air rifle, that was a LOT of commercial breaks.
HIGH: The fact that everyone on social media saw Stars Hollow in Ralphie's hometown
The live production was staged on the Warner Bros. backlot, the same place where Gilmore Girls was shot. Which meant — surprise! — Ralphie's Cleveland Street and its Indiana small town environs looked an awful lot like Stars Hollow, something that half of the tweeters on Twitter seemed to simultaneously notice.
LOW: Matthew Broderick as the narrator
Inserting the narrator into the story as a visible presence, as opposed to just an auditory one, felt pretty strange. Why doesn't anyone see Matthew Broderick? He's literally right there.
HIGH: Matthew Broderick as the narrator
While the construct was odd, Broderick did nice enough work with a tough job. Given his extensive experience with musical theater, breaking the fourth wall, and playing characters from yesteryear, as he did in the most recent season of BoJack Horseman, he was the perfect choice for a not-so-perfect part.
HIGH: The Parker family's house
The production designers did a great job of recreating the movie's famous house — an actual place in Cleveland that people can visit and stay overnight if they choose. The '40s details and character were reminiscent of what's in the film, without being an exact replica. The space also was opened up so cameras could move fluidly through it, but in a way that didn't detract from its charm.
LOW: Why is there an Old Navy in 1940s Indiana?
In at least one shot of the town, an old timey Old Navy shop was clearly visible. We know Old Navy was a sponsor of A Christmas Story Live! because we saw the 8 million commercials for it. This still burst the period-piece bubble, though not as much as a mom-and-pop version of an Apple Store would have.
HIGH: Ana Gasteyer
The former SNL star played a role that barely figured into the movie: Schwartz's mom. She even got her own song about Hanukkah that was written especially for the broadcast and she belted that sucker so beautifully, I'll probably be hearing it in my head for the next eight crazy nights. Gasteyer also benefited from something that none of her other cast members could: the fact that her character was barely in the movie, which gave her the ability to define the character without any baggage. (Although she did yell, "WHAAAAT?!" in an extremely convincing way.)
HIGH: Jane Krakowski
As any 30 Rock viewer knows, anything can be improved by having Jane Krakowski make an entrance, and though the songs she had to perform as Miss Shields were mostly forgettable pastiches, Krakowski sold every moment with superhuman, Jenna Maroney–esque dedication. Next time, build a show around her.
LOW: The breaking of the leg lamp
In the movie, when Mrs. Parker (played by Melinda Dillon) "accidentally" breaks her husband's treasured major award, it's obvious she did it on purpose, feels little remorse, and finds her husband pathetic for trying to glue the damn thing back together. Mrs. Parker is basically the indentured servant of the household — a concept that Maya Rudolph and the musical cover in the song "What a Mother Does" — and the lamp incident is her way of asserting herself. By striking a blow against tackiness, she makes it clear that she runs the household and deserves to decide whether "the soft glow of electric sex" belongs in her front window. But in the musical, Mr. and Mrs. Parker make up quickly after the fish-netted light fixture gets destroyed, instead of holding a quiet grudge about the whole thing. But quiet grudges are what marriages — especially marriages like the Parkers' — are based on, for God's sake!
HIGH: The curtain call
After three hours of trying to keep their energy up, everyone in the cast got to relax in the joyful curtain call, especially Andy Walken and Tyler Wladis (who played Ralphie and Randy, respectively). Those kids deserve a feast of Chinese food, and probably a lot of sleep.