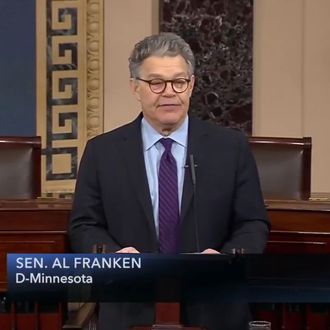 Franken on the floor of the Senate, announcing his resignation.
In a relatively brief and resolutely unapologetic statement, Senator Al Franken of Minnesota announced on the Senate floor today that he would resign his seat "in the coming weeks" in the wake of multiple allegations of sexual misconduct and a large-scale abandonment of support from his fellow Democratic senators.
Franken did not, however, admit to any wrongdoing, saying that "some allegations are not true, while others I remember differently." He suggested that had his original plan to hang tight while the Ethics Committee investigated the allegations been followed, he might have been eventually vindicated. But Minnesota's need for a senator who could "focus" on the job led him, he said, to pack it in.
The generally bloodied-but-unbowed tone of Franken's statement was continued in what will likely be its most-remembered passage:
There is some irony in the fact that I am leaving while a man who has bragged on tape about his history of sexual assault sits in the Oval Office, and a man who has repeatedly preyed on young girls campaigns for the Senate with the full support of his party.
Thus Franken succinctly agreed with those who had urged him not to resignon grounds that it would represent a double standard or perhaps unilateral disarmament for Democrats. But that's not the way the wind was blowing in his party as the number of women alleging unacceptable and/or unlawful behavior multiplied, so Franken grudgingly gave up his fight to stay in the Senate.
For admirers of Franken, the most poignant moment of his statement was this:
Even on the worst day of my political career, I know it's all been worth it.
The timing of Franken's resignation remains unclear, as is his motive in delaying it. Perhaps he is giving Governor Mark Dayton more time to choose a replacement (until next November's election, when voters will select someone to serve two more years until the end of Franken's term), or maybe he has things he wants to say as a senator under fire rather than a disgraced former senator. But with his resignation, it is clear that what Franken himself called "an important moment in our country's history" when "we were finally beginning to listen to women about the ways in which men's actions affect them" has reached a new phase.