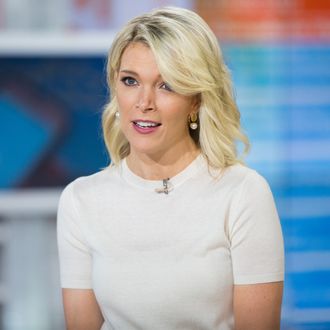 Photo: NBC/NBCU Photo Bank via Getty Images
Between the agonizing dancing sequences and certain celebrities' open disdain for her interview style, Megyn Kelly's third hour of Today — dubbed Megyn Kelly Today, in case you forget who's in charge — hasn't been generating a lot of positive press since its September debut. Morale and general workplace pride was seemingly so low at the NBC morning show, in fact, that when a handful of staffers from Full Frontal With Samantha Bee decided to swing by for a recent taping, the two staffs had quite the chilly interaction — owing to the belief that the Full Frontal employees were only there to cause trouble.
"Part of my staff went to see her show just for reasons of human interest, and security was really upset," Bee explained to Stephen Colbert at this weekend's Montclair Film Fundraiser. "They thought we were going to ambush her show and of course we did not do that at all." Bee didn't go into more specifics about the set visit, with Colbert only adding how he doesn't "know enough about what she's doing, if she's piggybacking on a cultural moment right now" to weigh in on Kelly's current role as a woman in media. In recent weeks, Kelly has taken a firm and vocal stance on sexual harassment in the workplace, slamming the likes of Charlie Rose and NBC's own Matt Lauer for their alleged inappropriate actions.