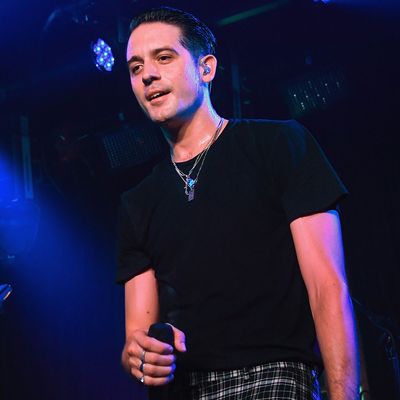 Photo: Erika Goldring/Getty Images for Bud Light
F. Scott Fitzgerald's 1922 novel, The Beautiful and Damned, tells the story of the New York City socialite Anthony Patch, a tycoon's heir actively waiting for his rich grandfather to die so he can play with the money. Patch is a writer by declaration, but in practice, he is a drunk and a layabout who'd sooner snark with friends over dinner or drop in on a theater matinee than write a single word. The party life is sapping his potential. Bay Area rapper G-Eazy named his new double album The Beautiful and Damned after the book, he says, because he was struck by the duality in the title, but the two works are linked by more than just a name. Like Patch, G-Eazy is locked in a struggle to live up to his potential, tussling with the wiles of the nightlife to honor his talent and clinging to the healing light of love to find redemption.
Well, that's the concept … In reality, The Beautiful and Damned mostly just careens through long nights and regrets it in the heavy mornings after. "Be careful, you don't want this," he says of hip-hop fame in "Leviathan." "There's a dark side that haunts this." Two lines later he's back to pills and shots of liquor. Eazy's album never sticks to the gravitas of its mission statement for long. When things get too dark, there's always a flighty radio record around the corner. The ride is jarring; "Sober" ("I just know that I'll regret this when I'm sober") sits right next to the Champagne and Valium raps of "Legend." "Pick Me Up" worries about getting ensnared by cocaine, then "Gotdamn" romances a girl blasting rails of it. The sequencing doesn't match the weary tug-of-war laid out in records like Mac Miller's GO:OD AM, whose mood swings felt like a side effect of the young rapper trying to get free of the pull of drugs and alcohol. Damned is too fond of the party life to put it down.
Damned doesn't quite settle into a groove until the last third, where "Crash and Burn," "Summer in December," and "Charles Brown" begin to reckon with depression and fear of failure. "Summer in December" is a sharp take on how easy it is to lose yourself in Hollywood: "Artists come and go these days, it's easy, they're not hard to miss / Here today, gone tomorrow, they fade into a dark abyss / Hollywood sold you a dream, like, how the fuck you fall for this?" "Fly Away" gets honest about drug use as escape from relationships and responsibilities: "My lifestyle is gettin' outta hand, I come down and take a Xan / Did too much blow tonight, I try to sleep, but I can't / Ignoring phone calls, when she hit me, I don't answer / 'Cause I'm faded, I ain't tryna listen to another lecture." "Charles Brown" sees Eazy continuing to fight for prosperity while Bay Area legend E-40 reflects on what his legacy will be when he's gone.
The pained clarity of songs like "Sober," "Pick Me Up," and "Charles Brown" makes the lighter records on either side feel bush league, like jabs at Top 40 lodged in the middle of a record with bigger, darker concerns. Though G-Eazy is known for upbeat pop rap records like the platinum-selling sex-and-money anthem "No Limit," he's not quite compelling as a hitmaker yet. His radio songs borrow liberally from Drake, both in their scrappy, boorish low-register melodicism and their plodding, workmanlike flows. (Eazy's downcast "… yeah" ad lib sounds so much like Aubrey it's almost chilling.) Damned does this four times in a row early on, across "Legend," "No Limit," "The Plan," and "That's a Lot." Eazy almost gets away with it until the "That's a Lot" tips its hand quoting the Toronto rapper's "Pound Cake" while using all of his vocal tics. Songs like these communicate the rapper's ability to synthesize popular sounds and flows into hits of his own, but play 'em in a club, and nobody knows who's rapping.
G-Eazy has a lot to say, but there's a stronger, shorter album to be whittled out of The Beautiful and Damned's excess. The album's 75-minute running time leaves too many opportunities to miss the mark and posts too many obvious shots at airplay for its own good. The kid's got real depth and uncanny pop smarts — the hook from "Gotdamn" will be stuck in my head all week — but he needs to stop hedging bets and padding the songs that express who he really is with cuts where he contorts into the rapper he thinks radio wants. The tragedy of the Fitzgerald novel the album is named after is that its protagonist secures everything he needs in life very early on but runs himself and his family ragged in his cold quest for more. G-Eazy needs to trust that his story and his own voice are enough to shine on their own.