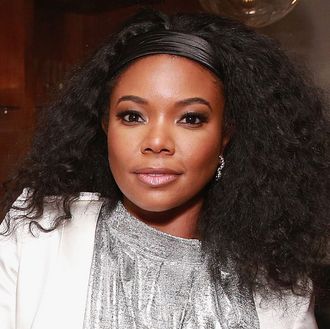 Gabrielle Union.
Photo: Robin Marchant/Getty Images for Waldorf Astoria
A new interview with Gabrielle Union in the the New York Times begins with the actress's publicist asking her how she wants to soundtrack the conversation and photoshoot taking place in her hotel room, "Tina on shuffle?" Union says yes, and then Tina Turner starts playing as she discusses her memoir, We're Going to Need More Wine, navigating the publishing industry as a black woman, how she takes time for herself as a mother of three boys ("I fake diarrhea a lot"), and how women of color fit into the growing #MeToo movement. On the cultural shift around how we discuss sexual assault, "I think the floodgates have opened for white women," she told the Times. "I don't think it's a coincidence whose pain has been taken seriously. Whose pain we have showed historically and continued to show. Whose pain is tolerable and whose pain is intolerable. And whose pain needs to be addressed now."
Union goes on to speculate about how the news of Harvey Weinstein's alleged decades of sexual abuse and harassment would have been received if members of "Hollywood royalty" hadn't been the ones to speak out first, and asks, "If they hadn't been approachable. If they hadn't been people who have had access to parts and roles and true inclusion in Hollywood, would we have believed?" In talking about her own rape, Union describes herself as a "perfect victim" given the circumstances of her attack. It happened at work and it was caught on camera and it was reported to police in a timely fashion — a rare combination of factors for a sexual-assault case. And she then gets into the responsibility women with megaphones have to raise the voices of those who are disenfranchised or overlooked. "When we have the microphone," she asks, "How often do we pass it back to the people who are experiencing a different challenge, but who are equally worthy as having the microphone?" Union said she'd love to do a second leg of her book tour, expanding it to more cities. So keep an eye out at a book store near you, and don't forget to bring enough wine.