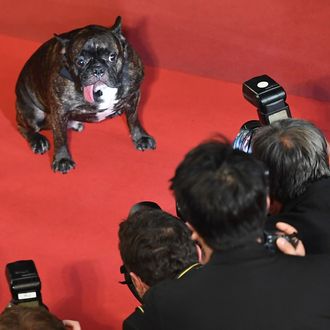 Photo: Anne-Christine Poujoulat/AFP/Getty Images
Thanks to the eagle-eyed Star Wars fans on the internet, it has now been revealed that Gary Fisher — the beloved French bulldog of Carrie Fisher — will be making an appearance in The Last Jedi. A new still from the film was released that features Rose Tico (Kelly Marie Tran) in a stare-down with Finn (John Boyega) at the swanky Canto Bight Casino, but on the far left side of the frame there's a large space creature holding a tiny space creature, and director Rian Johnson confirmed that the tiny creature is indeed Gary.
Despite the fact that he is among the world's most famous French bulldogs, that someone was able to identify him without his ever-present tongue hanging out and in full costume (digitally applied or otherwise) really speaks to the keen observational powers of a superfandom. If you recognize his flesh-colored owner, that's because the big creature appeared in Vanity Fair's sprawling preview of the movie earlier this year, though Gary does not seem to be pictured in those photos. With any luck, Gary will find his way to the Star Wars press tour once again this year, even without his dearly departed mom.