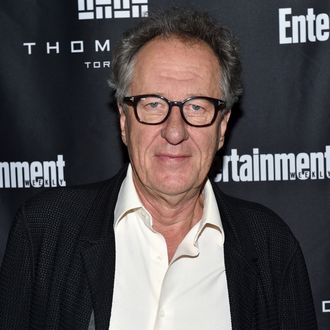 Photo: John Shearer/Getty Images for Entertainment Weekly
Earlier this week, Geoffrey Rush became the latest prominent man in Hollywood to be embroiled in the post–Harvey Weinstein reckoning — an unknown person or group of people at the Sydney Theatre Company filed a complaint stating Rush engaged in "inappropriate behavior" after his "engagement with the company had ended." (Rush played the lead in the company's King Lear in 2015 and 2016.) Now, owing to the claim lodged against him, Rush has chosen to resign from his presidential post at Australia's screen-industry academy, known as the Australian Academy of Cinema and Television Arts. And although the academy has accepted his voluntary resignation, Rush doesn't seem particularly happy about the series of events that have led to this — specifically, how the media reported on the allegations.
"Certain recent media reports have made untenable allegations concerning my standing in the entertainment community. It is unreasonable that my professional colleagues should be somehow associated with such allegations," Rush said in a statement through his lawyer, according to The Guardian. "This decision has not been made lightly. However, in the current climate of innuendo and unjustifiable reporting, I believe the decision to make a clean break to clear the air is the best for all concerned."
Rush took on a similar tone when denying the claim earlier this week, stating that the Sydney Theater Company refused to offer him information or clarification about the nature of his alleged inappropriate behavior. "They refused to illuminate me with the details," Rush said. "[N]o response was forthcoming." The theater company has yet to release an additional statement about the claim.