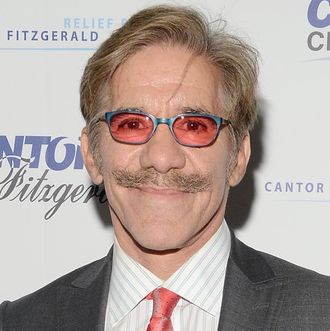 Rivera.
Photo: Noam Galai/Getty Images for Cantor Fitzgera
Shortly after mustachioed TV personality Geraldo Rivera came to disgraced Today show host Matt Lauer's defense, tweeting "News is a flirty business," video began circulating of a 1991 interview in which Bette Midler tells Barbara Walters that Rivera assaulter her in the '70s. Midler said Rivera and his producer "left the crew in the other room, they pushed me into my bathroom, they broke two poppers, and pushed them under my nose, and proceeded to grope me."
On Thursday, Midler retweeted the video and wrote: "Tomorrow is my birthday. I feel like this video was a gift from the universe to me. Geraldo may have apologized for his tweets supporting Matt Lauer, but he has yet to apologize for this. #MeToo." The next day, Rivera wrote a series of tweets in which he apologizes to Midler, and for the "tawdry" details in his 1991 memoir Exposing Myself.
Midler has not yet responded to Rivera's apology.