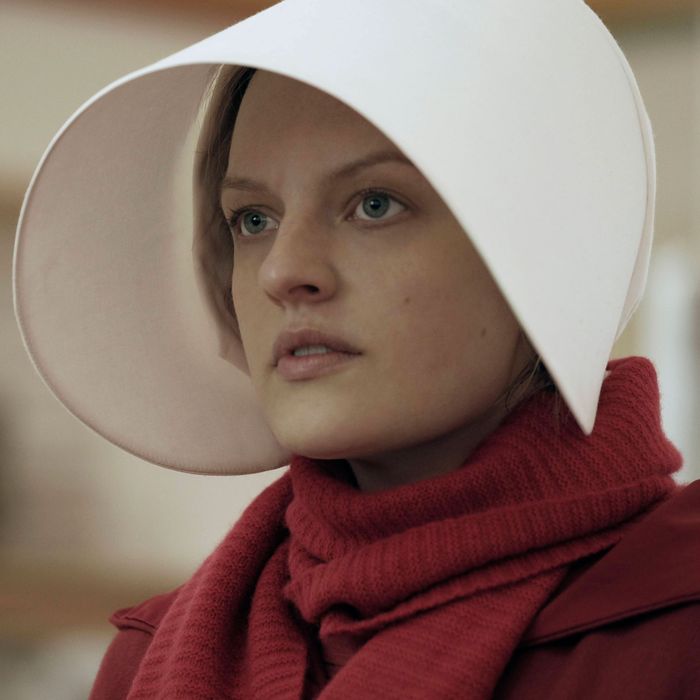 Elisabeth Moss in
The Handmaid's Tale
.
Photo: George Kraychyk/Hulu
There's a lot going on in the news lately, so there's a good chance you haven't spent much time thinking about the Golden Globes, not to mention which TV shows might get nominated when Globes nominees are revealed on Monday morning. Fortunately, it's my job — well, part of it — to ponder such important matters. Having done so, here are my best guesses at the shows that'll snag noms in the three biggest categories: Best Drama, Best Comedy, and Best Limited Series.
Best Drama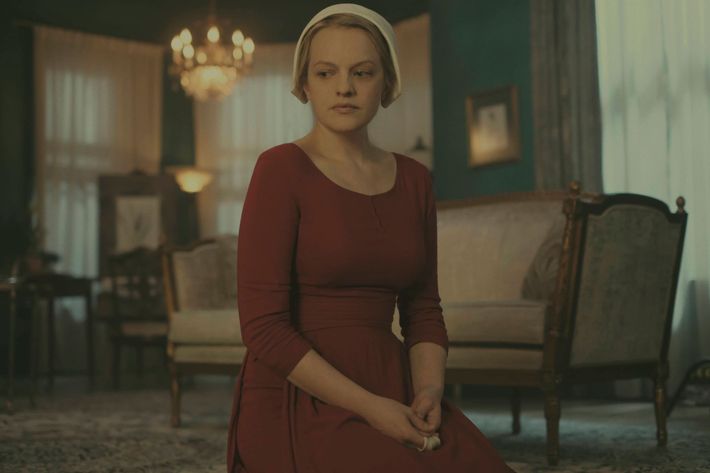 The Hollywood Foreign Press tends to highlight new, buzzy shows, a tendency that was in full effect in this category last year when four of the five contenders — The Crown, Stranger Things, This Is Us, and Westworld — each had only one season under their belts.
I'm not sure if that will be the case this year, though, because I expect the sophomore seasons of The Crown, Stranger Things, and This Is Us to result in repeat nods. Last year's fifth nominee, Game of Thrones, has been nominated for the past three consecutive years and I don't see that changing. So I'm anticipating a carbon-copy slate (minus Westworld, which didn't air a second season) with one new entry in the mix: The Handmaid's Tale. It won the Emmy for Outstanding Drama and was one of the most talked-about shows of 2017. I can't imagine it will be ignored.
Predicted nominees: The Crown, Game of Thrones, The Handmaid's Tale, Stranger Things, This Is Us.
Maybes: I could see the HFPA swerving left and nominating Netflix's Mindhunter, a well-received and more recent debut. There's also an outside chance that Outlander, nominated in this category two years ago, could get recognized again.
Best Comedy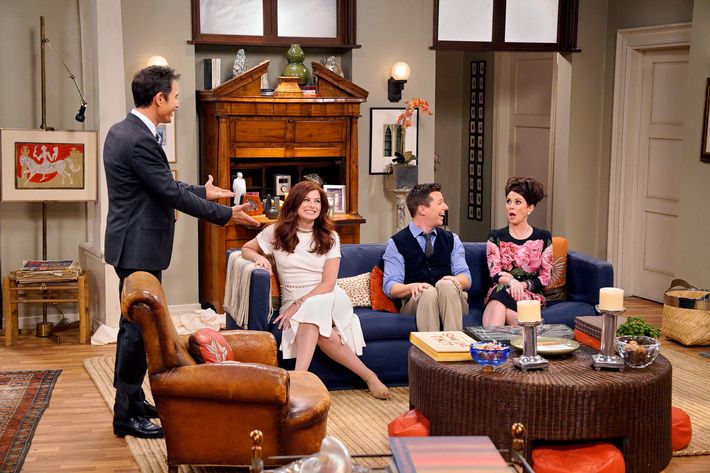 This is the hardest genre to predict because the HFPA often does the unexpected with comedies, but in such an unexpected way that it can only be foreseen with the help of a crystal ball and a deep, abiding love for Mozart in the Jungle. (I actually like Mozart in the Jungle, but was surprised to see it nominated again last year while shows like Master of None and Insecure were overlooked.) So, a lot of what I'm about to say is a series of shots in the dark. Here goes!
I think Veep, which has been nominated for two straight years, will be included for a third. Despite everything that's going on with Transparent right now, I expect it to be nominated for a fourth time because the Globes has honored it every year that it's existed. Given the show's journey to Israel this season, a group filled with international journalists would seem only more inclined to recognize it.
That leaves three open slots. One of them is going to go to Will & Grace. Why do I say this? First, because it was nominated in this category six times during its original run. It never won, but that still speaks to some serious Just Jack love among Globe voters. And second: NBC is airing the two-hour Golden Globes 75th Anniversary Spectacular on December 13, hosted by Eric McCormack and Debra Messing, a.k.a. Will and Grace. Now, that doesn't guarantee that it will be nominated. But the HFPA being the HFPA, it probably helps.
There are many possibly outcomes for the remaining two slots, but I humbly submit that Better Things and Master of None, which boosts its chances with voters by showing such reverence this season for Italian cinema, will snag them.
Predicted nominees: Better Things, Master of None, Transparent, Veep, Will & Grace.
Maybes: There are a lot of maybes. Black-ish could easily be nominated again. Insecure could squeeze in. So could Crazy Ex-Girlfriend, which has never been a nominee in this category even though Rachel Bloom won for her performance in season one. Vanity Fair's experts believe that the Globes will actually nominate six comedies, including GLOW and Curb Your Enthusiasm, which is also possible. I'd be thrilled if The Good Place gets a nod, but I have a feeling voters will run with only one NBC show and Will & Grace will be it.
Best Limited Series or Television Movie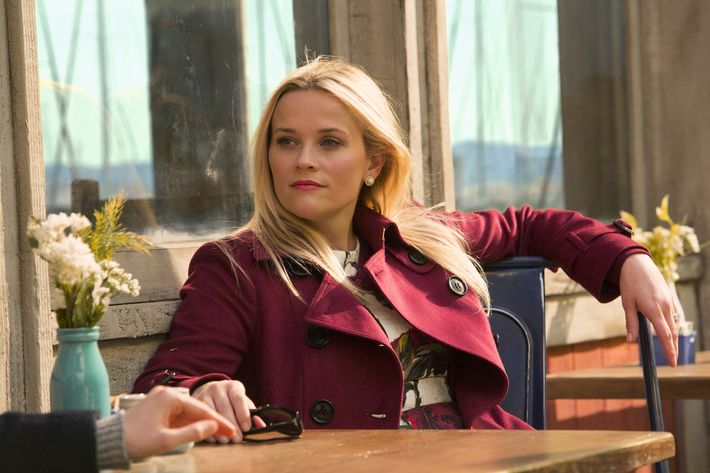 Big Little Lies is a lock, so that's one slot. Feud: Bette and Joan features movies stars playing movie stars and Globe voters love movie stars, so I'm confident that will get in, too. (Globe voters also have included a Ryan Murphy entry in this category for the past four years, so there's that.)
As polarizing as it could be, particularly among non-critics, I'm pretty sure Twin Peaks: The Return will also be nominated. It's brilliantly weird and it was directed by David Lynch, and I don't see the HFPA resisting those two factors. I suspect that Top of the Lake: China Girl (which has a strong pedigree of Nicole Kidman, Elisabeth Moss, and Jane Campion), will also get a nod even if it wasn't particularly well-received.
I boldly declare that the fifth spot will be occupied by Godless, which is excellent, stars notable actors, and came out recently enough for Globes voters to look ahead of the curve by choosing it.
The predicted nominees: Big Little Lies, Feud: Bette and Joan, Godless, Top of the Lake: China Girl, Twin Peaks: The Return.
Maybes: Fargo was nominated for its first two seasons, so it has the strongest chance of bumping Godless or one of the others out of contention. Since this is also a TV-movie category, HBO's The Immortal Life of Henrietta Lacks or The Wizard of Wall Street can't be ruled out either, nor can USA's limited series The Sinner.