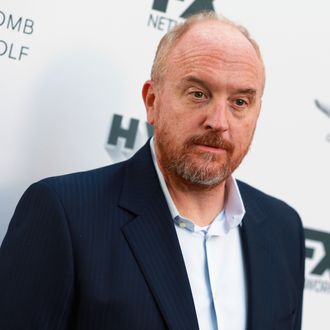 Louis C.K.
Photo: Rich Fury/Getty Images
In an after-the-fact, less-time-intensive mirror of Ridley Scott replacing Kevin Spacey in All the Money in the World, Disney XD has gone back and dubbed over Louis C.K.'s voice performance in episodes of its animated series Gravity Falls. C.K., who recently admitted to sexual misconduct including masturbating in front of women against their will, voiced a character known as the Horrifying Sweaty One-Armed Monstrosity (an especially unfortunate name, all things considered) in 2015 and 2016 episodes of the show. "The role was re-recorded approximately one month ago and new versions of three episodes are now on the Disney XD schedule around the world," a representative from Disney Channel told The Hollywood Reporter. "Series creator and executive producer Alex Hirsch is now credited as playing the character." Following reports of C.K.'s misconduct, FX and HBO also cut ties with the comedian, while TBS suspended production on his animated cop comedy.
Before Disney confirmed that Hirsch had dubbed over C.K., viewers had already noticed the new version of the Gravity Falls clip.
For comparison, here is the original clip with C.K.'s voice.