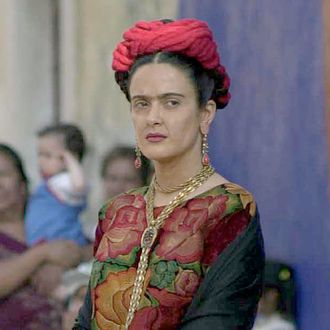 Photo: Susana Gonzalez/Getty Images
Behind the scenes of Frida, Harvey Weinstein terrorized Salma Hayek, bombarding her with sexual advances, private insults, and unreasonable demands. In a New York Times essay, Hayek recounts Weinstein's sexual misconduct — allegedly asking her to shower with him, asking her to have sex with him, knocking on her hotel room doors at all hours of the night — and the wars they waged over the Oscar-winning film. "Knowing what I know now, I wonder if it wasn't my friendship with [Robert Rodriguez and Elizabeth Avellan] — and Quentin Tarantino and George Clooney — that saved me from being raped," Hayek wrote. Weinstein has now been accused of sexual harassment or assault by dozens of women, with exposés reporting the network of spies, allies, and honeypots he used to allegedly abuse women in private. He has denied all allegations of nonconsensual sex.
Hayek admired Weinstein's eye for movies from afar, and was eager to work with him on the Frida Kahlo biopic she'd personally developed for years. He bought the rights to the project, and Hayek signed on to star and produce. Then, after Hayek continually rebuffed his advances, he allegedly turned on her. "When he was finally convinced that I was not going to earn the movie the way he had expected, he told me he had offered my role and my script with my years of research to another actress," she wrote. He demanded that she get a rewrite of the script, an A-list director, recruit four big-name actors for supporting roles, and raise $10 million in financing.
After Hayek delivered, Weinstein insisted that the movie feature a gratuitous nude scene. "He had been constantly asking for more skin, for more sex," Hayek recalled. "Once before, Julie Taymor got him to settle for a tango ending in a kiss instead of the lovemaking scene he wanted us to shoot between the character Tina Modotti, played by Ashley Judd, and Frida." Fearing all the cast and crew's work would be wasted if she stood her ground, Hayek agreed.
I arrived on the set the day we were to shoot the scene that I believed would save the movie. And for the first and last time in my career, I had a nervous breakdown: My body began to shake uncontrollably, my breath was short and I began to cry and cry, unable to stop, as if I were throwing up tears.




Since those around me had no knowledge of my history of Harvey, they were very surprised by my struggle that morning. It was not because I would be naked with another woman. It was because I would be naked with her for Harvey Weinstein. But I could not tell them then.




My mind understood that I had to do it, but my body wouldn't stop crying and convulsing. At that point, I started throwing up while a set frozen still waited to shoot. I had to take a tranquilizer, which eventually stopped the crying but made the vomiting worse. As you can imagine, this was not sexy, but it was the only way I could get through the scene.
Weinstein's bullying didn't end with that scene — he threatened to send the movie straight to video, and later memorably screamed at Taymor outside of a test screening. In all, Frida went on to win two Oscars — for score and makeup — from five nominations. Years after Frida's release, Hayek said, Weinstein approached her at a party. "You did well with Frida," he said. "We did a beautiful movie."