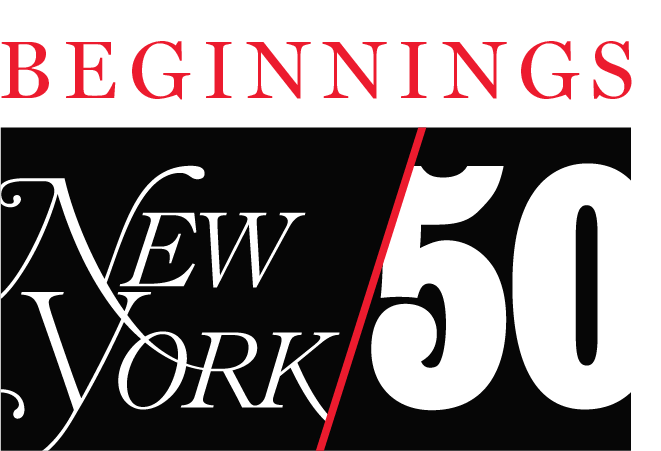 In celebration of New York Magazine's 50th anniversary, this weekly series, which will continue through October 2018, tells the stories behind key moments that shaped the city's culture.
In 1989, DJ Premier managed to get Charlie Parker, Big Daddy Kane, Brian Eno, and James Brown on the same record, without any lawyers — just by the virtue of having a good set of ears and a sampler that boasted "extended memory." "I saw [DJ] Marley [Marl] do an interview on the news while I was up here. They were talking about a 'new phenomenon called hip-hop,'" Premier tells me. "That's when he was at BLS [107.5] doing his radio show with Mr. Magic. When I saw the sampler he was using, converting the music into a beat, I was like, 'I'm buying that.' I still use it to this day."
That recording was Gang Starr's "Manifest," which introduced us to the born Texan who transformed New York hip-hop in the '90s, working with a snippet of bebop written nearly half a century ago, and Guru, a rapper who wore impeccable notches in his eyebrows. "A Night in Tunisia" meets "Word to the Mother (land)," with James Brown's voice encouraging, "Gather 'round," taking part in a black music continuum that spanned eras in minutes. Premier occasioned the moment by donning a suit in the video. All we had to do was nod our heads.
A year and a Biz Markie lawsuit later, the rap-listening audience included a litigious demographic, and Premier — along with contemporaries like Large Professor and Pete Rock — was forced to obscure and disfigure the sources of his samples, a legal necessity that coincided with their collector's thirst for the unknown. Black holes for loopholes.
Though Premier's productions were initially misnomered as jazz rap, he would also sample Beatles covers, KRS-One's impression of an Emergency Broadcast tone, and the sound of analog dirt on vinyl. The grit was real. Dismantling records into their components, Premier developed his signature sound from truncated bits of drums, piano, filtered bass lines, and scratched-in taunts and warnings, usually related to authenticity. From dusty record bins to bit-rate folders, it's now instantly recognized as "Real Hip-Hop," and was perfected in 1994 in Nas's "New York State of Mind," with Premier's double-bass sample shadowing a piano at every step.
But before that, growing up outside Houston, Premier learned to throw a punch, repair TVs, and watch professional wrestling. Appropriately, Texas is also where he heard his first 808-generated low end: the Beastie Boys playing through the subwoofer bed of a friend's pick-up truck. "What a way to outfit your fucking truck," Premier says. "He was like, 'When this beat drops, I want you to duck.' We were [like], 'Huh??'"
Premier eventually made it to New York. During the '77 blackouts, his grandfather drove him through Times Square in a vintage Ford. People would try to buy the car off them at stoplights. "I was in the front seat looking at my grandad like he was a star," he says. The blackouts were also an opportune time for aspiring DJs in need of equipment. "It was just everybody for themselves, cops not stopping people. Seeing everybody stealing electronics — I just wanted to be able to steal a color TV. And I definitely wanted to steal a record player."
Instead he ended up borrowing his mom's records. "Pretty much everything she told me not to take I took when I moved to New York," in 1988, Premier says. "All my mom's records say 'Pearl Martin.' I look back at my old records and I wrote my name on mad shit!" (The artist names, however, were blacked out, a cultural marker for DJs protecting their repertoire, and thus identity.) In the video for "Mass Appeal," you can see the fingerprints and smudges all over Primo's records. "My mother would've whup my ass for that. She'd say, 'If I see a fingerprint on the top …"
For Gang Starr's second album, 1990's Step Into the Arena, Premier sampled a French electronic composer for a song inspired by the time Guru got robbed, gave chase, and watched his assailants crash into an ambulance. By then, producers had begun outsourcing beats for other artists, leading to that career-making 1994 collaboration with Nas: "New York State of Mind."
In "New York State of Mind," a blown amp is pawned in service of an addiction that wrecked bodies, families, and entire blocks. The dead speaker cannot produce sound, but the crack victim's hustle, replayed in Nas's memory, is scored by a piano and double-bass that Premier borrowed from 1978. This could've been an old-school tragedy, a composite of the early rappers and DJs whose moment didn't survive the cheap high. Back then, the amps that did function were juicing the power grid for parties.
Those classic Premier beats that once bumped inside the heads and hallways of Biggie, Jay-Z, and Nas now inhabit the city organism, as if New York always sounded like the '90s. (1984, arms folded, might disagree.) There ought to be some neural Black Mirror geo-implant that Venmos Premier a royalty for whenever the sight of a bridge, a Big L mural, or winter itself slips one of his moods into our daily ops. A mundane search for parking can easily turn your brain into an M.O.P. album.
Though he was born in Texas, DJ Premier changed how we listen to New York City itself, through brief, happenstance encounters. Delivered by a ruminating system in passing, those spidery keys from "Unbelievable" seem to hang in the air while Biggie's next caper is already under way two blocks and one verse down the street. What's taken permanent root is often heard adrift in pieces, as if you're eavesdropping on someone else's blunted, short-term reverie. They play more often in my memory, a reliably decaying format that attempts to recapture fragments that Premier once picked up himself from different lives and stabs of history. It's music suited for our ever-refiguring (and go-figuring) of the past. Tracks have long memories, and loops repeat themselves like foggy old timers. Jay-Z's "D'evils" slips into its sampled incarnate, Allen Toussaint's "Go Back Home." The New Orleans soul ballad laments, "Where is the love that I used to know." You don't hear Toussaint's voice in "D'evils," only Jay's betrayal: "None of my friends speak."
The vocal hook in "D'evils" comes from the late Prodigy of Mobb Deep, through a voice in his head with Illuminati concerns. Premier's scratched-in rap refrains appear as if they've just come to mind, interjections from the present. At the time, he seemed to be paying homage to rap as it was happening. On "Dwyck," Nice and Smooth are hearing their last album selves chiming in, before getting down to the business of being really high and rapping about rhinos and talking tubs of margarine. After all, these are records playing parts of records, quotes from the collector's memory. Sampling is taking a few seconds to think back, selective yore that has been manipulated within confined spaces and lifespans. "As DJs we retain sounds," Premier says. "All that is based off why I came here."
Though he's indelibly connected to this city, one of Premier's better New York moments actually took place in Oakland. More specifically "In the Trunk," a remix in which Too Short lodges a complaint about New York rappers rapping too fast and exhausting the once indefatigable James Brown catalogue. It's basically the era that Premo would leave behind. Touring with DJ Quik and EPMD (early cultivators of Zapp) would inspire Gangstarr's lean fourth album, Hard to Earn, as the listening experience went from afoot in headphones to a low-end jeep crawl, part of Premier's Texas lineage — more boom for your bap. "I'm from the era that becomes the big trucks and jeeps. That added on to a whole new dimension. Putting the emphasis on the beats and the 808s [was] even more crazy," Premier says. The muffled bass line, another '90s signifier, is heard behind tinted windows or in the next room, filtered through walls — the ambience of New York apartment living. You can detect it in the subconscious winter bleeds of the rapper Ka, a middle-aged fire department chief whose music sounds half-dreamt under a pile of goose parkas left by the door. As we grow older and deafer, the high frequencies will depart with our hearing, leaving us with the lows. These filtered pulses are, in a sense, coming from your own twilit future.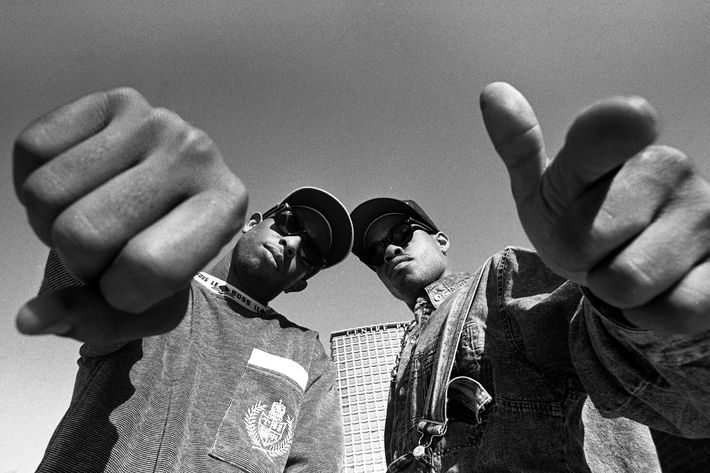 "It's a good feeling to be part of the era that really enhanced the city," says Premier. "Before [hip-hop] got to the point of being more regional." Regional referring to when local scenes in Houston, New Orleans, and Memphis went internet. In "New York State of Mind," Nas decides to bounce to Houston for a line (sample: Donald Byrd's "Flight Time") if only to lie low until the next hustle. In the 2000s, the rest of hip-hop would seemingly follow. "It's fucked up right?" says Jay-Z, his voice dropped into a super-chthonic realm in DJ Screw's remix of Premier's remix of "A Million and One Questions."
"A lot of people say, 'I'm older now, I'm moving down South," says Premier. "My dream was to be here and I'm stayin'. I'm not official unless I'm here. I love the road rage. The accent alone. I listen to my early Gang Starr interviews, I'm like, damn I was really trying to sound like a New Yorker then. I'm a country boy. My man from NYGz said, 'Anything outside of New York is country. It doesn't matter what state it is."
This is reassuring because New York is in a state of Mac mall box. A $3 bottle of organic tea called Steaz. A café whose walls were decorated with painted bullet holes. The new "realness," being an appropriated fantasy. (Of note: The James Brown sample from "Manifest" is "Bring It Up [Hipster's Ave]."). Parts of the city are changing faster than an infant outsizing her Gang Starr onesie, now available on DJ Premier's website, premierwuzhere.com. Yet Premier's loyalty to his sound is a dedication to neighborhoods still living the same crisis narrative that played out in his music two decades ago. Nothing will ever displace Group Home's "Livin' Proof" in a piercing January wind.
Premier's beats (and their sense of place in the city's memory) help retain a geography lost to developers and gentrification. In Gang Starr's "Place Where We Dwell," the MC Lyte sample, in its original location (written when she was 12!), is a shout-out to Empire Skating Rink, which once occupied an Ebbets Field garage. Ebbets Field is the site condemnation of Chubb Rock's final words in "Return of the Crooklyn Dodgers," taking it back as a matter of reclamation. Premier tings a triangle 90 times throughout the song as a reminder, in constant memory of nostalgia. (Easy for me to say, nostalgic for the nostalgia of listening to "Return" 22 years ago, blunted on a couch in North Carolina, counting triangle tings.) Rewind to the beginning of "Crooklyn" — before the piano my friend wants played at his funeral — and you're back at the "Place Where We Dwell," if only for five seconds of Guru's voice. The familiarity feels like home. Then he's gone.
If only those neuro-acoustic mapping royalties could also go to Group Home's Melachi the Nutcracker for when he got out of prison, to schools, or to the Jackie Robinson Houses, which still stand in the old Ebbets lot. "Everybody deserves a piece of where they live, in some type of fashion," says Premier. "Music is just my way of preserving that."
Premier's best work provided breathing room in the city's conflict with personal boundaries and vertical density. Group Home's "Supa Star" becomes communal real estate, where housing, much less property, is unaffordable. Premier's backdrop is a sped-up arc of trill that drops 20 stories down into a playground — also known, in other parts, as "Hanging Downtown," a Cameo song about longing and diminished optimism. "Supa Star" will always be compelling because Lil Dap and Melachi aren't Nas. It's compelling because it doesn't matter. They're not "lyrical assassins." What kills is the numbness, the "every day" (a refrain acquired from Isaac Hayes, 1969) pattern of cyclical violence. You're always rooting for this teenager who had to watch his friends die and borrowed Guru's bronchial inhaler and his Timberlands.
"Your relevance is the people who supported you from the get-go. Everything I do is in a New York state of mind. I'm indebted to preserving the sound of the city," Premier says. "A lot of parts of me is based off my passion for this city. We not all gonna make it. Like Jay-Z said, I refuse to be one of those old someones.'"
At 51, Premier is still unapologetically boom bap. He sees himself as a sort of Katz's Deli of hip-hop, doggedly, if not mathematically, loyal to his formula. "After all these years everybody goes to Katz's," he says. "There's still these fucking long lines. Still busy. Cash only.  It's still in the same location and still has an impact on every generation."
As parts of the city grow increasingly hard to recognize, the New York state of mind may be all that remains. For Premier, this includes complaining about the new benches in Times Square, parking his truck in his driveway facing out (you don't want to start the day backing out, looking over your shoulder), dressing for ice station McMurdo, and maybe not brawling like he did in the Gang Starr days. "These days, I'll just hit 'em with a bat and keep it moving."
Order Highbrow, Lowbrow, Brilliant, Despicable: 50 Years of New York, a celebratory book chronicling the magazine's history with powerful images and behind-the-scenes stories from staff and subjects.