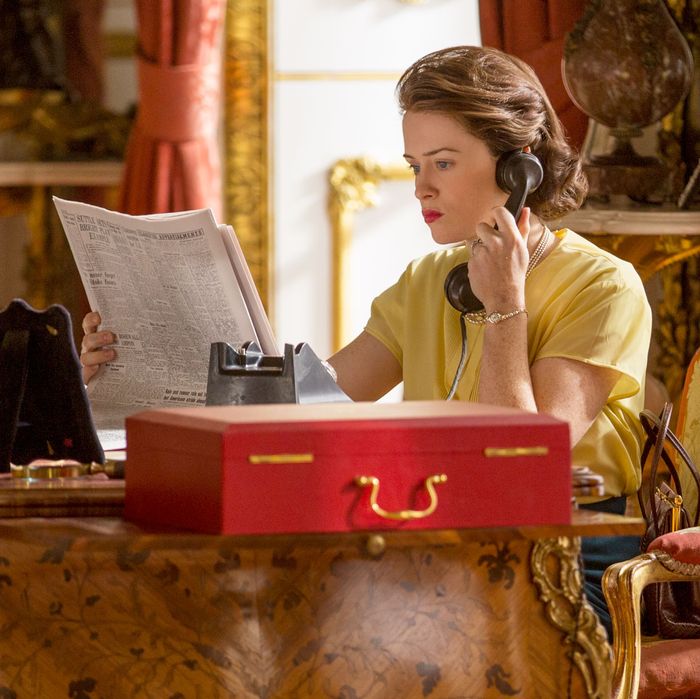 Photo: Robert Viglasky / Netflix
It's estimated that Netflix spent upwards of $100 million to create The Crown's scandalous world of British monarchs, and the hefty budget definitely shows: The costumes are a feast for the eyes, the Windsorian accents are spot on, and there are enough corgis to open up a posh petting zoo. But the one thing money couldn't buy was access to the Royal Family's private and administrative residences, represented most prominently by Buckingham Palace. It's unsurprising, really: Do you really think the royals would grant an American media company access to their most intimate spaces? The need to re-create the palace space presented a unique challenge for The Crown's production designer, Martin Childs, who went into a research spiral when he signed on for the gig over three years ago.
"I researched everything I could learn about Buckingham Palace, including visiting its state rooms as a tourist. One place you are never allowed to go, for obvious reasons, are the private apartments. There are, however, rough layouts available," Childs explained to Vulture.
First, he had to plan out the palace's living quarters. "One thing common to a lot of buildings of the period is what's known as the enfilade — it's the way rooms are connected to each other without the use of a corridor. So it's a great opportunity for composing shots," he said. "I combined this with the fact that Philip and Elizabeth's bedrooms are separated by dressing rooms for each of them. If I were to line up the beds within the framing of these doorways, then suddenly you have an architectural metaphor for a marriage. You can now compose and choreograph intimacy, distance, absence, isolation, and coming together."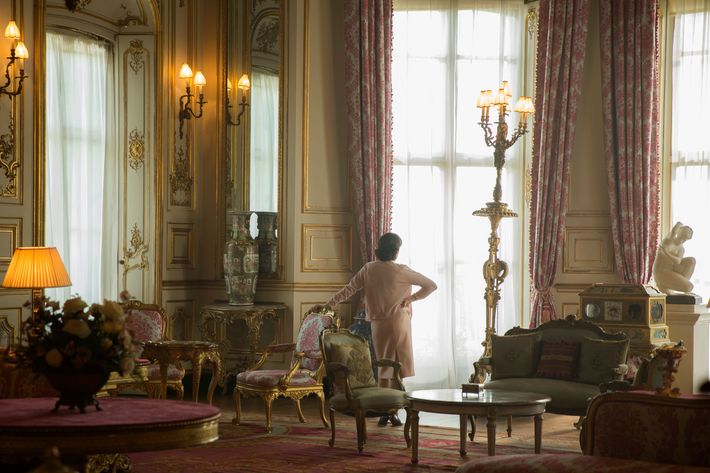 Having created this bedroom layout on paper, Childs and his team faced the difficult task of finding locations that could re-create the look of Buckingham Palace. "The closest was around 80 miles out of London. Knowing that we could build only a certain number of rooms and without the kind of budget that could compete with a real palace, I decided that the private apartments were what we should concentrate on building," he recalled. "Plus, I wanted to incorporate some postwar austerity and neglect. You can beat up your own set, but you can't add patches of damp and wield a hammer in a stately home."
From there, it became a matter of ensuring that the filming locations, which were scattered throughout the British countryside, could blend together to create the illusion of one palace. "I made a plan of how each of the palaces interconnect to make Buckingham Palace. For example, take a left off the landing of the queen's private apartments, take the stairs down, and you finish up in Lancaster House, where if you make a right in the hallway you wind up in Wilton House," Childs explained. "After two seasons and five directors, the plan still pretty much holds!"
Of course, a physical space can only do so much. Childs had to rely on period-appropriate props — the ornate sectionals, clocks, and candelabras that populate any given scene — which had to be rotated out on an annoyingly frequent basis. "With a continuing drama as long as The Crown, the wisest thing you can do is own the props. However, furniture of this quality isn't something you can find in the sale rooms, so renting is inevitable and we're lucky enough to have some great prop houses in England," he said. "The worst that can happen is that, having chosen them and used them on episodes one and two, you find they're not available for episodes five and six. It's then when you have to play the untold wealth card and turn your room in Buckingham Palace into a different room in Buckingham Palace with different, equally wonderful, furniture."
The occasional use of CGI was also required to ensure the palace's dimensions were as accurate as possible, especially when it came to exteriors. But after re-creating "the central section of Buckingham Palace and its gates, gate posts, and distinctive balcony," Childs and his team stuck to a firm rule: No more than one-third of any shot could be created digitally. "Two thirds would always be physically real in the camera. As much as we could we've stuck to that rule. CGI would never be used emphatically — no showing off!" he said.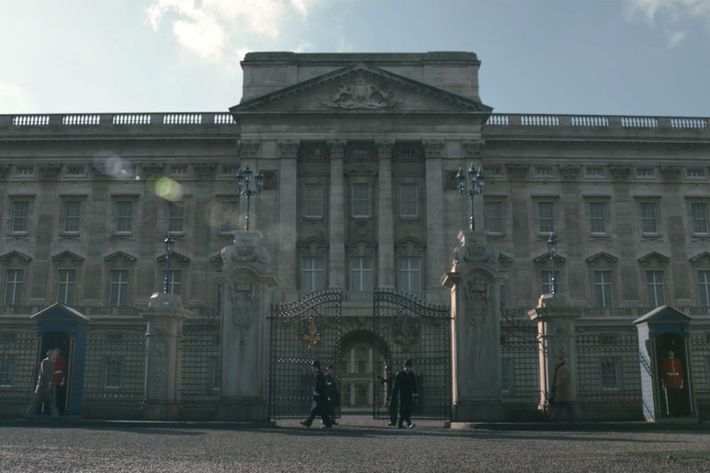 Overall, Childs said that a healthy mix of historical accuracy and creative interpretation is the key to The Crown's beautiful production success: "Knowing that it's a drama and not a documentary gave us license not to invent, but to create a vision of scale and untold wealth rather than slavishly reproduce the actual rooms." How will Buckingham Palace evolve in The Crown's forthcoming seasons, then? Only time will tell.