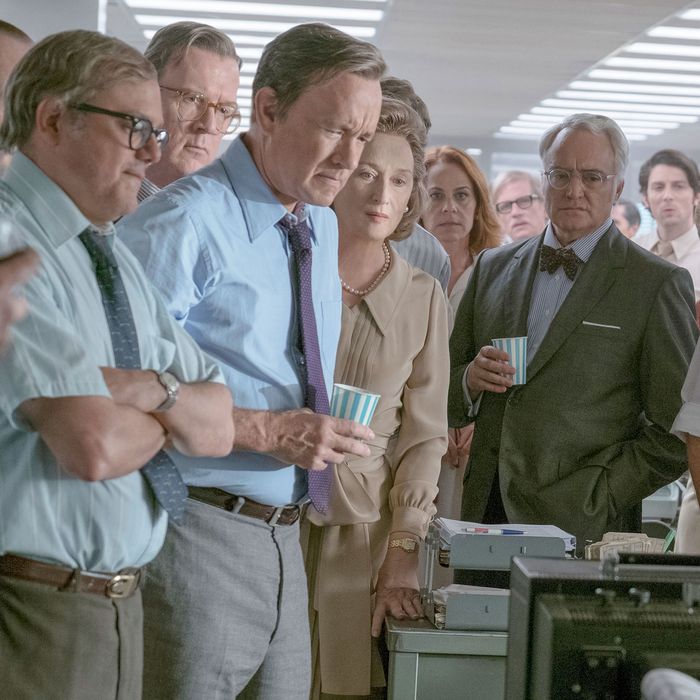 Photo: Niko Tavernise/Twentieth Century Fox Film Corporation.
Watching The Post feels a little like watching a big crossover special featuring all the actors from 2017's most well-known TV shows. Alongside stars Meryl Streep and Tom Hanks, there's Bob Odenkirk, Matthew Rhys, Alison Brie, Carrie Coon, Zach Woods, David Cross, and more, a stew of people you all recognize from that one thing, finally brought together. For that, thank the film's casting director Ellen Lewis, who told Vulture that she didn't think about trying to assemble a cast that captured the current moment, but simply worked with Spielberg and a variety of agents to fill out a world defined by Streep and Hanks. The result: a coterie of notable TV and film actors, a few theater pros, and a Mr. Show With Bob and David reunion — though that was unintentional.
Lewis, who has cast numerous Scorsese films from Goodfellas through his upcoming Netflix project The Irishman, had worked with Spielberg on Bridge of Spies and was trying to find a boy to star in his upcoming film about the kidnapping of Edgardo Mortara when the director changed course and decided to jump on The Post first. The Friday after the Oscars, Lewis got a call from producer Kristie Macosko Krieger, and set to work soon after making lists of actors who could potentially fill out the cast. "When you have Meryl Streep and Tom Hanks, and Steven Spielberg" — who all signed on from the start, Lewis said — "there was no consideration as to names. It was, 'Who's right for the part?' I look at pictures of actors and talk to agents of every size. I talk to the agents of the tiniest agencies in New York, [who] I've been talking to for 30 years."
Not only did Lewis, who prefers to communicate over the phone rather than over email, have to find actors who would fit alongside Streep and Hanks, but they had to be available to work during The Post's rushed production schedule — and look similar to the real-life characters they played, or at least capture their spirit. "I don't do look-alikes," Lewis said. "I certainly had pictures of what people look like on my wall, but what I'm looking for is an actor who will be able to convey the essence of who they're playing."
With that in mind, Vulture and Lewis talked through the stories behind how a few of The Post's key supporting players ended up in the film.
Sarah Paulson as Tony Bradlee
Paulson, who plays Ben Bradlee's wife, is probably best known as a Ryan Murphy TV show regular. "As we started going over ideas, she was somebody that Steven decided pretty quickly that he would like to have in the movie," Lewis said. "Scheduling with people was very challenging. Sarah Paulson is in a TV show, so it's like, 'Okay, how do we do that?' That's when having a fantastic line producer and amazing first assistant director are so vital to what we do, because we have to figure out how it's going to work."
Matthew Rhys as Daniel Ellsberg
"Steven's company produces The Americans, so he was somebody at the top of the list right away" Lewis said of Rhys, who plays the military analyst who first leaked the Pentagon Papers. After setting up a meeting between Spielberg and Rhys, Lewis said it was "a pretty easy decision" to bring him onto the film, noting that he had the right kind of harried intensity and intelligence for the role.
Bob Odenkirk as Ben Bagdikian
"This is the kind of thing that I love, which is that I actually never watched Breaking Bad, nor have I watched Better Call Saul," Lewis said of finding Odenkirk to play Bagdikian, the Post reporter who gets parts of the Pentagon Papers. "But, in a conversation with the agent covering me from William Morris Endeavor, he came up. I'm looking at pictures of Ben Bagdikian and I watch five minutes of his reel and it's like, This could be really interesting. Many people already know him from Breaking Bad and Better Call Saul, and Steven was aware of those shows and really liked those shows, so as soon as I showed him the clip, it was fantastic. We were really lucky because he was on hiatus from the show. So our film worked perfectly into his schedule."
David Cross as Howard Simmons
Odenkirk's comedic partner on Mr. Show With Bob and David, Cross also appears in The Post in a serious role (and a lot of makeup) as the Post's managing editor. "I never watched Mr. Show," Lewis said. " I had thought about David Cross for other projects that were not comedic in any way, and the film that I had seen him in that I was really struck by was a movie called Kill Your Darlings that my friend Laura Rosenthal cast." It wasn't until after they had already settled on Cross in the role that they realized a connection between Odenkirk and Cross existed. "We didn't even think about it," Lewis said with a laugh. "I think we'd already set him and it's like, 'Wait, do we need to worry about this?' We thought he was perfect for the part and said, 'Let's not worry about it.' So, we didn't."
Carrie Coon and Tracy Letts as Meg Greenfield and Fritz Beebe
Coon and Letts, who are married in real life, appear in different places in The Post, as an editorial writer and the chairman of the board of the Washington Post, respectively. Lewis first met Letts when his Pulitzer Prize–winning play August: Osage County came to New York. Later, Lewis saw Letts and Coon together in Who's Afraid of Virginia Woolf. "I was a huge fan," Lewis said of Coon, and championed her for a part in The Leftovers when she was casting the pilot of that show. "It wasn't hard. Damon Lindelof loved her, but I feel a really strong connection to Carrie. I knew that I wanted her in this right away. As we were more into this process, what was great is that that last of The Leftovers was happening as well as Carrie on Fargo. So, then Steven became very aware of her."
Zach Woods and Jesse Plemons as Anthony Essaye and Roger Clark
Woods and Plemons appear together in The Post as lawyers involved in fighting the government's efforts to suppress the publication of the Pentagon Papers. "Steven knew Zach from Silicon Valley. He's a huge fan of that show, so he knew that he wanted him," Lewis said. "I was really excited when Steven cast Jesse Plemons for the second time. Because he's in Bridge of Spies and I'm a huge fan of his. It was just like, 'Wait, what do we have? Where could Jesse fit in this movie?'"
Jessie Mueller as Judith Martin
Mueller might be an unfamiliar face to moviegoers — her appearance in The Post as the newspaper's gossip columnist is her first film role — but to any Broadway fan, the Tony winner is recognizable from shows like Waitress, Beautiful, and The Mystery of Edwin Drood. "I worked with a casting director here named Rori Bergman who was wonderful, and that was Rori's idea," Lewis said of finding Mueller, who broke out from the Chicago theater scene and will next appear in Carousel on Broadway this spring. "The timing worked out perfectly. She wasn't doing a Broadway play, and everybody was so excited that she's in the film."
Stark Sands and Alison Brie as Don and Lally Graham
Sands, another theater actor with Chicago roots (he's currently in Kinky Boots on Broadway) plays Katharine Graham's son, while Brie, who's appeared in Community, Mad Men, and now GLOW, plays her daughter. "Stark's an actor I've known for years, and I thought that he and Meryl together worked very well for him, playing her son," Lewis said. "Alison Brie is an actress that I knew from Mad Men. I had never met her. Her agent said, 'She's going to be coming into New York, would you read her?' She came in and she just did a spectacular reading."
Bradley Whitford as Arthur Parsons
If you need someone to play a composite character, representing several Post board members, why not bring on Whitford? He's got the gravitas, and after being in projects like The West Wing, feels right at home in D.C. "Bradley, I think, became aware of this and we got huge pushes about him from his agent, which was great," Lewis said. "I cast him so many years ago in Scent of a Woman, and he's gone on to do a million things. It just felt like he fit in this world."
Bruce Greenwood as Robert McNamara
Speaking of gravitas, The Post also has perpetual film politician Bruce Greenwood as Robert McNamara, the former secretary of Defense who's also a friend of Graham's. "He was someone who Steven knew right away that he wanted for Robert McNamara," Lewis said. "I think he is amazing in the movie. I never even had to think about that role. Steven right away said 'I would like Bruce Greenwood to play Robert McNamara.'" And it was so.
Brent Langdon as Paul Ignatius, Rick Holmes as Murrey Marder, Will Denton as Michael the Runner
While the more recognizable names might stand out among the cast list, Lewis is proud of bringing a number of less-recognizable actors into the fold. Among them, Lewis pointed out Brent Langdon, who plays LBJ's former secretary of Defense, and Rick Holmes, a theater actor who plays the Post reporter Murrey Marder. Lewis had to the fill all the speaking roles in the newsroom, down to Michael the Runner, played by Will Denton. "He has a wonderful quality, and he's in the trailer!" she said. "It's exciting because Steven is such a personable director, so all these actors got to have real communication and exchanges with him. So, then you're hearing from actors' agents all through the process, 'I just had one of the greatest experiences of my life.' Which is so gratifying."