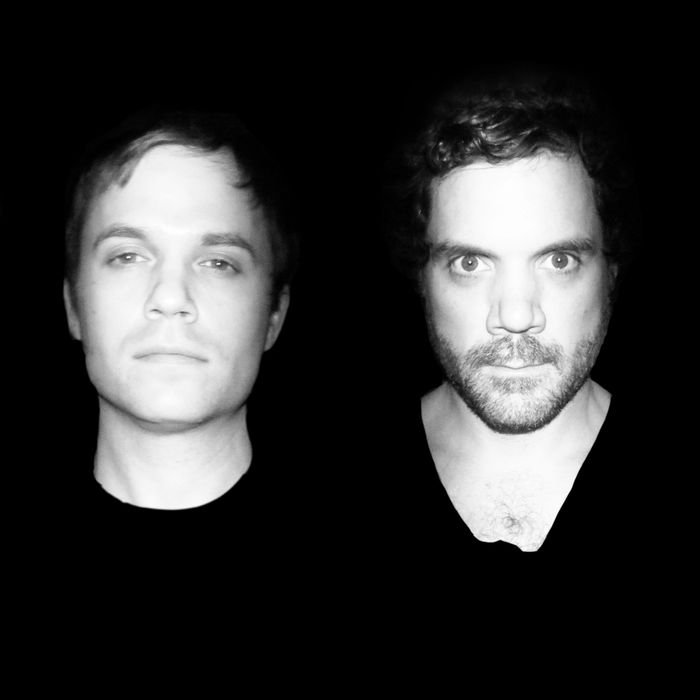 If anyone else tried to do what John Dwyer did with his band Thee Oh Sees, they'd probably be dead by now. The 43-year-old California garage-rock cult icon has released 20 albums as Thee Oh Sees, started bands like Damaged Bug and Coachwhips on the side, toured nonstop, and continues to run Castle Face Records, the label he founded in 2003. Pile on years of hard living and some drug use, and the fact that he's even still alive seems like a fluke. But Dwyer still has energy to burn.
"Now, I come home and I don't want to do shit," he says. "I just want to sit down, you know?" If there's one takeaway from the 20 years he's been working as a musician, it's that John Dwyer's downtime is the average person's productivity peak. Currently, he lives with his girlfriend, dog, and two feral cats in the Eagle Rock neighborhood of Los Angeles. It's a big shift from San Francisco, the city he lived in for decades, but ended up leaving as rental prices skyrocketed, and forced him to move 14 times before he surrendered and headed to Los Angeles. The change seems to suit him, though: Just before our phone call, he was working on building an outdoor shower in his yard.
Born to a working-class family in Providence, Rhode Island, Dwyer fell in love with the city's DIY music scene immediately upon discovering it. Between sneaking into metal concerts and obsessing over Sonic Youth and Polvo records, his fascination with music landed him a guitar on his 15th birthday. It wasn't until five years later that he tried songwriting himself. In 1997, he began writing material under the moniker Orinoka Crash Suite — a name that would evolve into OCS, then at different times throughout his career, The Oh Sees, Thee Oh Sees, and Oh Sees to represent changes in lineup or genre.
Seeking cheaper rent and a change of musical scenery, Dwyer uprooted to San Francisco in 1998. He found both immediately. The city became a necessary playground for his career, landing him in an apartment mere blocks from soon-to-be bandmates Brigid Dawson and Petey Dammit. Dwyer asked Dammit to play bass with him in 2007 after seeing him perform in other bands. His friendship with Dawson, however, was already in motion. They'd met years earlier when, at the age of 29, she left London for the Bay Area to pursue music, despite never playing an instrument previously. She got a job at the coffee shop Dwyer frequented. "I missed that sharp sense of humor in England, and John was one of the few people who had it," says Dawson. "He looked you right in the eye, had good manners, and was never too angsty to get his coffee first. He would come in with flyers, too, and hand them out." She still keeps one of them — an image of a "sasquatch monkey man" walking across a vibrant rainbow, the colors now faded — pinned to her dresser mirror. It's a reminder of how far the band has come.
After hearing stories about how he powered his amps through generators or played by bus stops, Dawson finally decided to check it out. "It was so fun," she says. "It was exactly what music should be: raw, lovely, and wild. It made me feel like a teenager again." The next time he came into the coffee shop, she invited him to one of her shows. Dwyer showed up, and was so captured by her voice that he invited her to jam, with hopes that she would eventually join him in Thee Oh Sees. Dawson still recalls the moment with surprise even though it speaks to the affable yet direct persona Dwyer has repped since day one. "He basically had me there to come up with harmonies, but that became our thing," she says. "John always brings in a cohesive song, and the rest [of the band] write their own parts. He knows what works that way, and I think he knew what he was looking for when he found us."
Nearly a decade into Thee Oh Sees' existence, Dwyer was finally able to focus the band's sound. He convinced Dawson to try the keyboard — a welcome instrument because her stepfather, a jazz pianist, played Thelonious Monk songs on loop while she was growing up — while continuing to stress the importance of their vocal harmonies. Dwyer's wild, stringy guitar-playing edged Dammit, alongside drummers Patrick Mullins (and, later, Mike Shoun), to speed up the group's tempo, which resulted in a deranged but addictive style of garage rock. At places like leather-daddy bar SF Eagle Tavern, they would extend songs into jam sessions at rapid-fire tempos. Dwyer would lick his guitar mid-solo or swallow the microphone while singing. Word of mouth spread: the converted told their friends to come to the next shows to witness that energy firsthand. Like-minded acts Ty Segall, Sic Alps, and Mikal Cronin looked on in awe. Soon, Dwyer cemented his status as a fixture of the San Francisco garage-rock scene — a guitar god that felt surreal yet neighborly, propped up by word of mouth.
Thee Oh Sees' output borders on comical. Each year, the band releases an album, oftentimes with another close behind it: In 2016 they released A Weird Exits and followed it with An Odd Entrances three months later. In 2011 they released Castlemania, and Carrion Crawler/The Dream arrived six months behind it. Each record charts a musical development, transitioning from lo-fi sketches to psych pop to harrowed garage rock. The one consistency across their discography is Dwyer's original vision for the band to get faster and wilder. So far, that's manifested as 20 studio albums, eight EPs, four compilation albums, two live albums, and a dozen seven-inches. "Jesus Christ," Dwyer says when I read the numbers back to him. "It must be hard for fans. I'd get sick of my voice if I heard it that much."
But for Dwyer, releasing albums isn't really the end goal. He has to purge himself of the music rattling in his head, and oftentimes it becomes a judicious process of economical streamlining — even for live records like Thee Hounds of Foggy Notion which was just the band, one boom mic, and the realization that they didn't need high-end studio production to sound good together. Ever since his first girlfriend bought him a four-track, recording music is Dwyer's biggest hobby — and with Thee Oh Sees, he's turned it into a full-time job.
Though the band's output is steady, it wasn't really their discography that launched them into the ranks of indie fame. Instead, it was their ridiculous, intense, and reckless live shows, from house parties to international festivals and every random set between. In 2011, they set up their instruments in front of Chicago's Logan Square Monument in the middle of the day, just because they felt like it. Earlier this year, they played a wedding in Italy, but didn't realize it was such until arriving at the reception venue. Dwyer jokes that the best concerts are ones he doesn't remember. But in Dawson's eyes, the best concerts are ones where Dwyer pushed them to realize what they were capable of, like a quiet 2007 performance as Daniel Johnston's backing band. After being given a CD of five songs to play with Johnston, Dwyer seized the opportunity to encourage Dawson to play drums, despite having never played them before. "I unknowingly learned how to play left-handed," she says, "because our drummer at the time used a left-handed kit." The day of the show, he left a note on the drum kit for her — "Good luck, roast beef" — playfully mocking her British roots to defuse any nerves.
These days, Dwyer performs with bassist Tim Hellman and two drummers. The only original member who still contributes is Dawson, who adds harmonies on their records but no longer tours with the band. There're unofficial rules for the road, according to Dwyer, but he won't share them. Just that Thee Oh Sees tour for 30 days. A break follows. Then they hit the road once again. "They're meatheads who can do it for two hours straight," Dwyer says of the drummers. "If anything, playing with me guarantees you will learn how to play faster and harder." Watching them, the two drummers appear to follow an unspoken promise to push one another to improve, if only by proxy of sitting beside the other each night, hammering away.
To celebrate their 20th year and 20th LP, Memory of a Cut Off Head, Dwyer and the band returned to their original name, OCS. With it, he revisits the band's earlier folk sound. It's not just a flashback to the soft side of his songwriting — fingerpicked guitar and gentle percussion — that new listeners may be unfamiliar with. Rather, it's a chance for Dwyer to accomplish outstanding goals that he couldn't within the garage style of Thee Oh Sees' other records. The album is ripe with orchestral strings. It was recorded in a real studio with a proper string trio, where their contributions create a warmth missing in OCS' early albums. Then comes Dawson's singing, where she shifts from backing harmonies to lead vocals, taking the reins on songs like "The Fool" and "Lift a Finger." In 2014, she took voice lessons for the first time — including a City College course about showtunes where she was voted "most improved" — and Memory of a Cut Off Head is her first time putting those lessons to use. It's the record that most clearly shows what she brings to the table. It also gives Dwyer the chance to indulge his softer side: He nurtures melodies, relaxed stories, and stringy guitar solos with a freewheeling aura that conveys his veteran musician status.
The dramatic shift in sound on their new album may catch some off guard, but that's okay with Dwyer. The band cultivated a massive following by some combination of happenstance, reliability, and persistence, and he knows those fans won't abandon ship. "It's kind of wild, you know?" he says. "We've just been doing our thing all this time, and all of a sudden the size of the crowd just gets bigger and bigger. They just keep coming back for more." It's a fan base that creates folklore-styled rumors — like that the band took a 2013 "hiatus" (false) or that his suspiciously fluffy hair is a toupee (also false; though he thinks it's a roundabout compliment) — which is often a signifier of cult success. In Dwyer's eyes, it's just part of the package of being a musician too driven to stop.
"I'll never miss working at a grocery store or painting my house, but it's still weird to think I don't have to do those jobs anymore," he says. "We didn't have a meteoric rise from the internet. We put in our time, toured for years and years, and slowly — very slowly — gained a following. I'd say we get one new fan a month, but hey, once they're in, they stick around — and that's an honor."