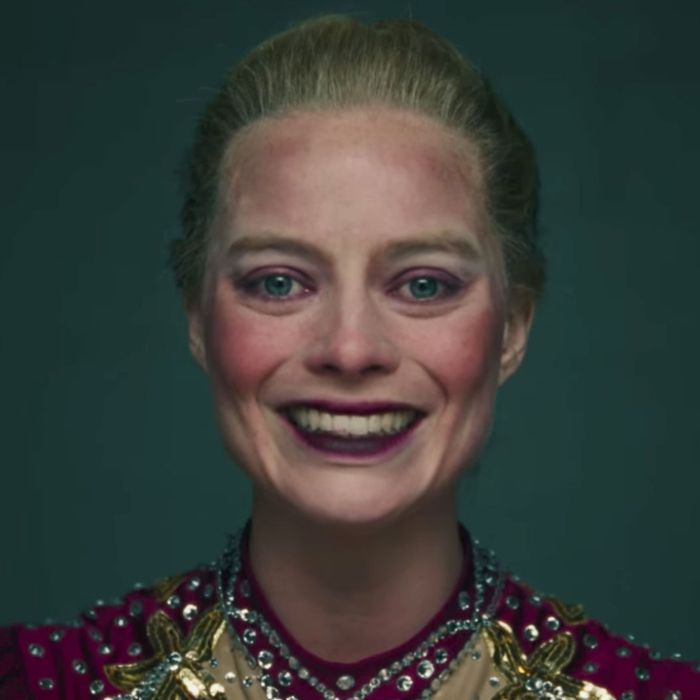 Margot Robbie as Tonya Harding in
I, Tonya
Photo: Neon
The steak knife makes its flight across the screen — thrown with malicious intent by Allison Janney, sticking in Margot Robbie's bicep like a dart — about halfway through the meta-narrative ice-skating biopic I, Tonya.
In the scene, Janney (portraying LaVona Golden, the acid-tongued, alcoholic mother of disgraced figure skater Tonya Harding) upbraids her daughter over a poor performance on the ice — "You skated like a graceless bull dyke out there; I was embarrassed for you" — when her anger boils over into this brief, horrifying, but also darkly funny paroxysm of domestic abuse.
It's hardly the movie's only depiction of interfamily violence. We see Robbie's Tonya getting smacked with a hairbrush and having her chair kicked out from under her by LaVona, as well as being cold-cocked and having her head bashed into a mirror by Sebastian Stan as her husband Jeff Gillooly (on the flip side, Robbie pummels him in a number of scenes, too — and even tries to blast him with a shotgun). The leitmotif is clear: "Violence is all I ever knew," Tonya says at one point, implicitly contextualizing "the Incident" that left Nancy Kerrigan with a broken knee and Harding with an even more shattered reputation in 1994. But that hasn't prevented a certain amount of criticism of the film's handling of domestic violence in the lead-up to its release.
"Why Does 'I, Tonya' Want us to Think Domestic Abuse Is Hilarious?" asked a headline in the New York Observer last month. Vanity Fair film critic Richard Lawson tweeted with even deeper displeasure after seeing the movie at the Toronto International Film Festival in September. "I, TONYA: cheap, cruel and stupid," he wrote. "Ironic '70s tunes playing over scenes of domestic abuse played for laughs and all. Ugh." (The movie current holds an 89 percent "freshness" rating on Rotten Tomatoes.) In the New York Times, critic Manohla Dargis opines, "As 'I, Tonya' skips here and there and the plot thickens, it becomes increasingly baffling why the filmmakers decided to put a comic spin on this pathetic, dispiriting story."
According to I, Tonya's director Craig Gillespie (Lars and the Real Girl, The Finest Hours), from the earliest stages of preproduction, each scene featuring domestic violence was carefully considered — and calibrated — with characters breaking the "fourth wall" to directly address the camera during violent exchanges. Gillespie hoped this would, at least somewhat, soften the blows. "It was part of trying to get into the mindset she's in," Gillespie says. "When you see her in interviews, she'd be very casual about her mother beating her. It would be handled in such a matter-of-fact way when Tonya would talk about it, you could see how desensitized to it she was to the violence. So how do we show that to the audience? The idea of breaking the fourth wall — which wasn't scripted — I thought, 'Let's try this in this violent moment. It reenforces that she's not connected.'"
The steak knife scene alone resulted in no small number of conversations between the producers and the filmmaker, concerning things like knife size — meat cleaver? butter knife? — and whether the amount of blood seen onscreen was too gratuitous. "They were worried it wouldn't feel believable and would get too absurd," says Gillespie. "They asked, 'Could we replace the knife with something else? Bottles? Glasses? Or various other trinkets in the house? What kind of knife should it be? How deep a wound is it?' But it's so informative how unfazed Tonya is by the wound. She gives it a look like you'd get from a child. Like, 'This is all ya got?'"
To hear it from screenwriter Steven Rogers — best known for writing romantic fare such as Hope Floats and Kate and Leopold before his I, Tonya script wound up on the Black List of Hollywood's best unproduced screenplays last year — portraying the domestic violence was simply a function of his research. The film explains itself in an early title card as "based on irony free, wildly contradictory, totally true interviews with Tonya Harding and Jeff Gillooly." "To me, the story is really funny and really tragic and really crazy," Rogers says. "First and foremost, this is what Tonya told me; it's true-ish depending on whose point of view you believe. Jeff said he never hit her, while it is documented that they hit each other. The domestic violence was never part of the entertainment. It was part of the true story."
In a recent interview with the Wrap, Robbie, who also served as one of the movie's producers, admitted to agonizing about whether depicting the abuse would cost the filmmakers viewer goodwill. "All the way through preproduction, all the way through shooting: Have we lost the audience now?" she recalled asking. "Have we pushed it too far? Is he still redeemable? Is she still redeemable? Like, where is that line and how do we walk along it?" She elaborated on walking that line in an interview with W magazine: "When we screened the film at the Toronto International Film Festival, the whole audience gasped when Gillooly hit her. But six minutes later, he did something kind and the audience went, 'Ahhh!' That was interesting to me, and explains something about the insidious nature of domestic violence. The audience forgave him so quickly. How could you blame Tonya for going back to him?"
Gillespie, for his part, acknowledges a certain "dance with tone" — toggling between horrifying and hilarious. But he feels the scenes of domestic abuse are key to understanding the character. "It was one of the things I was most concerned about in the film," the director says. "It was one of the first questions that Margot asked me: How would you portray the violence? I said, 'We have to reflect the life that Tonya came from and the abuse that she went through that gave her the armor that she had, and the way that she sees the world.' To not show it would be a disservice."
"In the film, she says, 'Nancy gets hit one time and the whole world shits. For me it was an all-the-time occurrence,'" Gillespie continues. "You understand so much more when you understand that violence is something Tonya experienced every day."