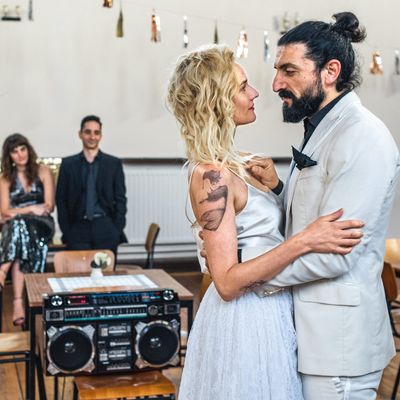 Diane Kruger and Numan Acar in
In the Fade
.
Photo: Courtesy of Magnolia Pictures
As Katja, a German woman whose bespectacled little son and Turkish husband are blown up by terrorists in Fatih Akin's In the Fade, Diane Kruger is in nearly every shot, and her wide, open face with its hollow eyes says more in silence than other actors do in lengthy perorations. What Kruger conveys most deeply is confusion. Katja's husband (Numan Acar) had served prison time for dealing drugs (they marry, in a prologue, while he's still imprisoned) but has straightened himself out and built a business. Her son on his last day of life is taken with the concept of empathy, which he pronounces "em-pat-tee." Now she glowers across a courtroom at the accused murderers (a husband and wife), unable to comprehend their clear, untroubled faces or the sneering persistence of their defense attorney (the spooky-looking Johannes Krisch) to raise doubts about a case that seems open-and-shut. Watch Kruger's face as she stands outside the courthouse, smoking a cigarette across from the father (Ulrich Tukur), who alerted the police when he found fertilizer and bomb ingredients in his son's garage. You see anger, pity, distrust, and gratitude, all of which resolve themselves into hopelessness. She has no words.
One of Germany's most accomplished directors, Akin returns to a region where the borders are increasingly porous and the blending of cultures produces unease — or worse. (Possible culprits for the bombing: neo-Nazis, the Turkish Mafia, the Kurds, or those familiar scapegoats the Albanians.) Thanks to chillingly spare storytelling, Kruger's momentous performance, and a score by Josh Homme (the front man of Queens of the Stone Age) that features a sort of screechy clang that gave me shivers, In the Fade is gripping. But it's hard to know what to take away from it. The villains are one-note. The trial's outcome is difficult to buy. Akin's sense of helplessness borders on nihilism of the sort that makes vigilante action seem the most reliable recourse. At least he leaves you thinking What a waste, instead of Kill 'em again!
*This article appears in the December 25, 2017, issue of New York Magazine.