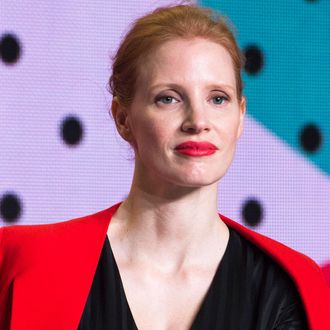 Photo: Valerie Macon/AFP/Getty Images
A few days ago, the Twitterati got into a (rightful) tizzy when the Los Angeles Times published a cover story featuring Jessica Chastain, Annette Bening, Margot Robbie, Diane Kruger, Saoirse Ronan, and Kate Winslet to tote Hollywood's continuing efforts for "a shift in focus." Unsurprisingly, people weren't amused that six pasty white women were chosen to represent the newspaper's cause as opposed to, say, even just one woman of color, and tweets like this soon filled up the timelines:
Chastain, whose avid and informed tweets have spurred important dialogue in the past, decided to respond to the outcry by actually criticizing the cover in question. "It's a sad look that there's no WOC in this pic of us promoting our female lead films," she tweeted this weekend. "The industry needs to become more inclusive in its storytelling. What were your favorite WOC lead films this year?" She also criticized the film industry's current lack of leading roles — as opposed to supporting roles — for nonwhite actresses.
The five additional actresses on the cover, who are all Oscar front-runners, have yet to comment on this controversy.