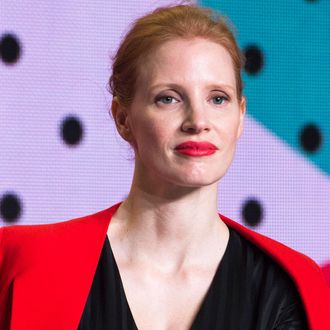 Photo: Valerie Macon/AFP/Getty Images
Jessica Chastain has been one of the most outspoken Hollywood A-listers in regards to gender equality in film. Lately, she's addressed the current wave of sexual-misconduct allegations, tweeting about how she was warned about Harvey Weinstein and name-checking Bryan Singer for his rumored sexual misconduct. Chastain presents it all quite bluntly on social media (she says was even recently told by an unnamed fellow actor to "calm down" online), but in a new interview with the New York Times the actress talks about her surprise in getting a Golden Globe nomination for Molly's Game since she was expecting blowback for her candor.
To be honest, I'm mainly surprised about my nomination. As an actor, I have a lot of fear, thinking that if I speak my mind, or something that feels like it deviates from the norm as a woman, am I going to be made to disappear in my industry? When the article came out about Weinstein, I immediately started tweeting. I've got a good group of girlfriends on WhatsApp, and I said, "I'm really terrified I'm destroying my career right now. I wonder if people will still see me as an actress, and want to work with knowing I have these opinions." In the way that only good girlfriends can do, they helped me eliminate fear and understand that the only way to change something that's wrong is to change it, not ignore it. And rather than saying it's an industrywide issue, it's more than that. It's a society wide issue. We can't ignore farmworkers or women who have been invisible.
With Chastain now locked into awards season next year and the cavalcade of sexual-assault allegations against famous men appearing to be endless, we should be hearing plenty more from her on Twitter and the interview circuit well after the Molly's Game press tour comes to an end.