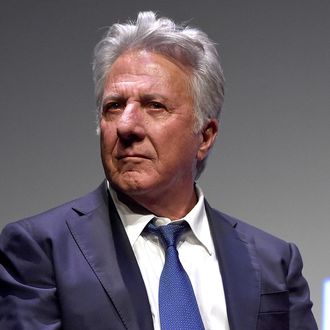 Photo: Jamie McCarthy/Getty Images
While leading a Q&A prior to the 20th anniversary screening of the political satire Wag the Dog on Monday night, HBO host John Oliver brought up the recent allegations of sexual harassment made against actor Dustin Hoffman to a panel comprising Robert De Niro, producer Jane Rosenthal, director Barry Levinson, and Hoffman himself. Needless to say, both the questions and answers became exceedingly tense as the panel wore on.
Reportedly, when Oliver asked the actor about a harassment allegation made by a 17-year-old production assistant working on the 1985 made-for-TV adaptation of Death of a Salesman, Hoffman told him, "First of all, it didn't happen the way she reported." According to Deadline, Oliver questioned the validity of Hoffman's official response to the alleged harassment, a statement in which the actor said of his behavior: "It is not reflective of who I am." Remarked Oliver, "It's that part of the response to this stuff that pisses me off. It is reflective of who you were. You've given no evidence to show that it didn't happen. There was a period of time when you were creeping around women. It feels like a cop-out to say, 'Well, this isn't me.' Do you understand how that feels like a dismissal?"'
Per Deadline's report, the audience at the 92nd Street Y in Manhattan became increasingly vocal and divided as the almost 30-minute debate continued. Throughout the discussion, Hoffman maintained that he didn't actually do anything wrong. "You've put me on display here," the actor reportedly said. "You have indicted me … That's not 'innocent until proven guilty.'" At one point Hoffman reminded Oliver that he "[wasn't] there" when the alleged harassment took place, to which the Last Week Tonight host responded, "I'm happy I wasn't." Over on Twitter, Washington Post writer Steven Zeitchik live-tweeted the conversation, and summed up the evening thusly: "All hell has now broken loose on this Wag the Dog panel."
The Washington Post obtained video of Oliver and Hoffman's tense exchange. When Oliver read a line from accuser Anna Graham Hunter's Hollywood Reporter essay, Hoffman asked Oliver if he believed what he was reading. Oliver said yes, "because there's no point in [Hunter] lying." "Well, there's a point in her not bringing it up for 40 years," Hoffman replied. Both the audience and Oliver groaned disapprovingly.