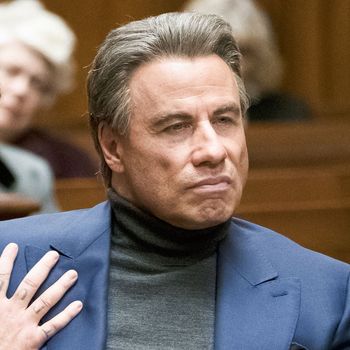 John Travolta portrays John Gotti in the film
Gotti
Photo: Emmett/Furla/Oasis Films
John Travolta and the producers of the John Gotti biopic Gotti would like you to know that contrary to recent reports, the movie didn't get bumped off by its distributor Lionsgate — the studio that was said to be canceling Gotti's release a mere ten days before its scheduled arrival in theaters on December 15. To use an appropriately mob-centric metaphor, the predicament can be explained another way: The producers made Lionsgate an offer they couldn't refuse.
The feature film directorial debut of Entourage star Kevin Connolly, Gotti showcases what is described as a breakout performance by Travolta as the Teflon Don, head of the Gambino crime syndicate that became the racketeering/loansharking/murder-extortion scourge of '80s New York. But because the movie was only set to receive a relatively tiny theatrical release via the studio's Lionsgate Premiere division (through which its genre films and day-and-date titles are typically distributed), its producers exercised a buy-back clause in the distribution contract, intent on getting the movie to a wider multiplex audience and giving it an awards-season push.
"All these reports are saying the studio 'dropped' Gotti and John Travolta, that's 100 percent false," says the film's executive producer Keya Morgan. "The studio never dropped it! Lionsgate said, 'We want this movie. It has Oscar buzz.' We had to beg them for it." (Lionsgate did not immediately respond when contacted for comment.)
So Lionsgate was persuaded to sell Gotti back to the production company Emmett/Furla/Oasis, which produced the film with Fiore Films and Highland Film Group. About three weeks ago, Travolta claims to have personally sought out a new financier: Edward Walson, a producer of Broadway plays who's also backed such films as Woody Allen's Café Society and Wonder Wheel. And now the producers say they are close to getting a new distributor that will land Gotti in 1,000 theaters next year.
"Lionsgate was planning on a minimal release, and I did an investigation into people who might have the interest and financial wherewithal to better release it," Travolta told Deadline. "That is the simple explanation for this. It wasn't dropped. It wasn't easy to get Lionsgate to give it up. They said no, twice, and I literally begged them to reconsider and they finally and generously let it go."
According to Morgan, the producers are currently negotiating with two studios that are interested in releasing the project with the aim of premiering Gotti at the Cannes Film Festival in May. And he strenuously denied that Lionsgate had decided to back out of releasing the film out of concern for Travolta's long-standing ties to the Church of Scientology or recently unearthed accusations of sexual misconduct.
"This has nothing to do with any sex scandal at all," Morgan says. "This has nothing to do with Scientology. Or Trump. Or Harvey Weinstein! Get over it! We just got more money, it's a great film and we're putting it in more theaters."