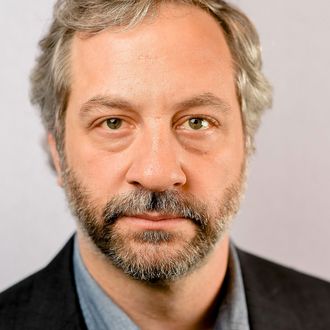 Photo: Matt Winkelmeyer/Getty Images
Last month, writer, actor, director, and veteran apologizer Lena Dunham and Girls showrunner Jenni Konner were widely criticized after issuing a statement of support for Murray Miller, a Girls writer who was accused of sexually assaulting actress Aurora Perrineau when she was 17. Dunham and Konner apologized for their statement the next day, writing, "We regret this decision with every fiber of our being." Now, Judd Apatow, who was an executive producer on Girls, is coming to Dunham's defense. Speaking to The Hollywood Reporter at an event on December 3, the director said:
Len is the greatest person I have ever met. She fights so hard for so many important causes. She really sticks her neck out. She cares about people. She started this amazing Lenny newsletter, which has created a platform for all sorts of different women to speak and be heard. We're all kind of trying to figure out how to navigate this best. It affects all of our lives and touches all of our lives in all different ways. She apologized for speaking too quickly, but I think many of us are in that situation. And I think overall she is one of the great people in our business fighting for very important causes. And I appreciate that.
In November, Perrineau filed a police report against Miller, alleging that after a night of drinking she went to his house with friends and that "At some point, I woke up in Murray's bed naked. He was on top of me having sexual intercourse with me. At no time did I consent to any sexual contact with Murray."