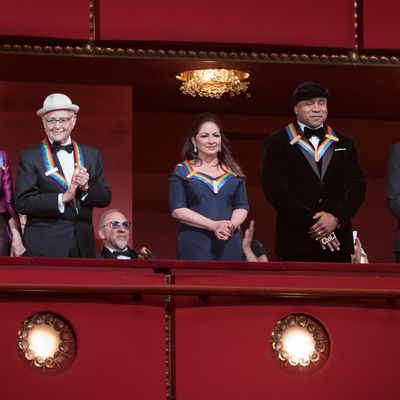 The Kennedy Center Honorees in the presidential box, minus the president.
Photo: Scott Suchman/The Kennedy Center
The presence of Donald Trump was not felt at the Kennedy Center Honors on Sunday night.
Of course that's because physically, he was not there.
As announced back in August, the president and first lady opted not to attend the annual celebration of American artists in order to "allow the honorees to celebrate without any political distraction." That decision — the first time a president has missed the occasion in 23 years, and the only time one has done so without sending the First Lady as his surrogate — was made after two of those honorees, TV pioneer Norman Lear and dancer Carmen de Lavallade, announced plans to boycott the traditional pre-ceremony White House reception in order to express their opposition to Trump's rhetoric and policies. (The reception was scrapped once the Trumps backed out of the festivities.)
Even the ceremony — which paid tribute to Lear, de Lavallade, Gloria Estefan, Lionel Richie, and LL Cool J, the first hip-hop artist to ever become a Kennedy Center honoree — basically went the Voldemort route when it came time to talking about the president, never referring to him by name or even indirectly. While Stephen Colbert had hosted the program for the previous three years, this year there was no host. Instead, previous Kennedy Center Honoree Quincy Jones handled the role of making introductory and closing remarks. With no late-night comedian to talk about the significance of the night, the opportunity to comment on the elephant in the room — or, rather, the Republican elephant who wasn't in the room — was largely eliminated, which may have been by design.
At the beginning of the program, which will be edited down to two hours and broadcast December 26 on CBS, Caroline Kennedy did speak about the example set by her father, President John F. Kennedy, in ways that could be interpreted as a low-key commentary on the current Oval Office occupier. ("Now it is our turn to ask, what can we do for our country?" she said, adding: "The men who create power make an indispensable contribution to the nation's greatness, but the men who question power make a contribution just as indispensable, especially when that questioning is disinterested, for they determine whether we use power or power uses us.")
During the tribute to Lear's many influential shows — one that featured Kenya Barris and Anthony Anderson of Black-ish; Crazy Ex-Girlfriend creator-star Rachel Bloom; Rita Moreno, who appears in the new version of One Day at a Time; and All in the Family star Rob Reiner —Dave Chappelle also made a pointed crack about the copy of the Declaration of Independence that Lear purchased and displayed around the country, including during the Honors ceremony. "God bless this great land where everything is for sale, including our founding document," Chappelle said. "I'm sure you can catch some rubles for that."
Other than that, once the doors to the Kennedy Center Opera House closed, all the noise and controversies were shut out as well. Up in the presidential box, where the president and First Lady traditionally sit with the ribbon-and-medal-adorned honorees, the five artists being saluted were the only VIPs in straight-backed chairs. In a way, though, even that sent a strong message: For the first time in Honors history, at least based on this writer's research, every honoree save one was a person of color. (In a clip of Lear accepting his award at the State Dinner held the night before, he quipped, "I'm very proud among these nominees to be representing my race.")
"I want to make sure that tonight, it's about the arts," LL Cool J said on the red carpet before the ceremony began. "I don't want to feed into any distractions or go left. Tonight it's about the music."
Music was central to what was an often emotional and joyous ceremony. During the tribute to Estefan, which the "Get on Your Feet" singer tearily watched with a tissue balled up in one hand, Estefan's daughter Emily Estefan performed her mother's song, "Reach," prompting Richie to reach across LL Cool J to give the elder Estefan a "Way to go, Mom" fist bump.
At the end of the journey through some of Richie's biggest hits, performed by Stevie Wonder, Luke Bryan, and Leona Lewis, the Washington, D.C., crowd — a group that is always appreciative but not necessarily always, uh, loose — rose to its feet to dance to closing song, "All Night Long." Richie, Estefan, and LL Cool J were also caught on the monitors, happily mouthing the words to "Easy."
The tribute to LL Cool J was the most explosive of the night, with a pack of spinning break dancers providing the backdrop for Busta Rhymes, dressed in a full LL-style red track suit, to handle "Mama Said Knock You Out"; MC Lyte to put her spin on "I'm Bad"; and Darryl McDaniels, a.k.a. DMC of Run-D.M.C., to blaze through "Rock the Bells."
Even the Lear portion of the evening — in which the sets of his beloved sitcoms were re-created, one after the other — got people singing and dancing. This man's shows were unquestionably influential for their mix of humor and social issues. But, damn, they also had the best theme songs ever. At one point, Meryl Streep — there to honor de Lavallade, her dance instructor during her days at Yale Drama — was caught in the audience singing along to The Jeffersons theme, a spontaneous moment that may not wind up in the broadcast, but will still probably earn her an Emmy nomination somehow.
It is hard to imagine Trump existing comfortably in this environment — my God, the reaction shots during the ceremony would have been something to behold — and just as hard to imagine everyone enjoying themselves in the same way had he been there. It's also likely that it would have been difficult to wrangle the same caliber of talent to participate in the event if the president had RSVP'd yes. During a conversation at intermission, Barris said he likely would not have come if Trump had attended. Barris's Black-ish star, Anderson, told Vulture he would have been really torn about what to do since he considers Lear a mentor, and is friends with both LL Cool J and Lionel Richie.
J.J. Abrams, a longtime friend of Lear's who opened his tribute, said during the post-ceremony dinner that he would have followed Lear's lead on how to handle the situation. "I would have done anything for Norman," he said. "Whatever Norman wanted to do, I would have done."
Rachel Bloom, on the other hand, at least considered the idea that attending the Kennedy Center Honors could have had a positive impact on the president.
"On the one hand, it makes sense that he's not here because I think people would have boycotted," she said. "On the other hand, this is a night honoring artists and freedom of thought and understanding where other people are coming from. It's a room filled with love and respect. Like, what a great influence [that could be] on someone who seems to be lacking in love and generosity and respect for other people."
Maybe so. But at this year's Kennedy Center Honors, everybody seemed pretty content to bask in each other's love, generosity, and respect for a few hours, without any politically divisive interruptions.