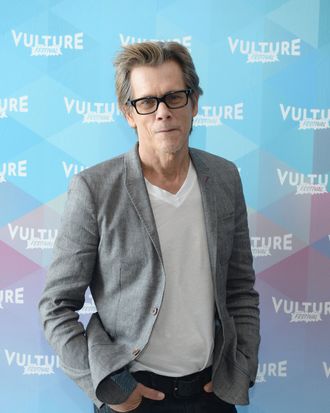 Photo: Andrew Toth/Getty Images for Vulture Festival
Actor Kevin Bacon earned his third Golden Globe nomination Monday for his titular role on Amazon's I Love Dick, in which he plays an artist-cowboy and professor who becomes the obsession of a married artist (Kathryn Hahn). In one memorable scene, Bacon walks shirtless down the streets of Marfa, Texas, holding a lamb on his shoulders, in a fantasy that protagonist Chris (Hahn) is having. Eventually Dick stops, kneels down, places the lamb on the ground and seductively shaves its belly.
"When I finished shooting that, I was like, I have the greatest gig in the world," Bacon told Vulture after the nominations were announced. "I literally said that to anyone in the entire crew who would listen. Look at what I just got to do. This is why I feel so grateful to be an actor, because who would ever have that experience? That lamb was amazing."
The lamb scene is just one example of the show's independent and experimental sensibility, the qualities that Bacon says drew him to the role and made him want to work with co-creators Jill Soloway and Sarah Gubbins on the series, based on Chris Kraus's semiautobiographical '90s cult classic.
"These days, a lot of times television is a great place to experiment, both artistically and subjectwise," Bacon said. "There are opportunities to push the envelope creatively and socially. We never knew exactly where things were going to go. It was very fluid in terms of where the story lines were going and where our characters were going and even in the way things were blocked and shot. But it's not as though we improvised. There was great, beautiful fantastic writing and lines that were given to us. I sometimes fought to say them the way they were written because they were written so well."
The 59-year-old actor said he's "touched" to be nominated in the same category with Anthony Anderson (Black-ish), Aziz Ansari (Master of None), William H. Macy (Shameless), and his Will & Grace ex–TV husband Eric McCormack because he admires all of their shows. The reboot of Will & Grace received a best-comedy nomination on Monday as well.
"It's really cool," Bacon said of the reboot's success. "That was a historically important show not only in terms of its content, but it was at the forefront of a modern style of network comedy — that kind of spitfire way, where the audience can't keep up with the laughs. And the actors are so great. I have to tell you, of all the things I've done in my life, I'll be working through an airport and someone will say, 'You know the best thing you've ever done?' I'll go 'No.' And the answer is Will & Grace. It happens to me really very frequently, so I was very grateful to have that gig and to be able to work with those guys. They gotta get me back there. I don't know what's stopping them."