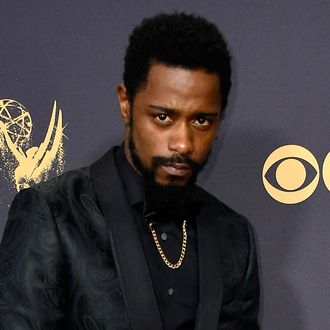 Lakeith Stanfield.
Photo: Frazer Harrison/Getty Images
Great news, everyone! Despite delays, some reportedly related to Donald Glover's turn in the Han Solo Star Wars prequel, Atlanta will be returning to FX for season two very, very soon. Unless it's not. But it probably is! Series star Lakeith Stanfield took to Instagram this weekend to tweet a cast photo and tease the season's apparent release date: sometime in February 2018. And that's when the confusion began.
Stanfield went on to change both the month and the year of Atlanta's return several times, from April 2018 to February 2020 and so on and so forth. FX has yet to announce an official schedule for the show's second season, but we do know the cast has wrapped shooting, so that's something to cling to. Stanfield's photo currently claims season two will drop in January 2019, which we're going to assume is a hilarious joke, because that's honestly too far away.