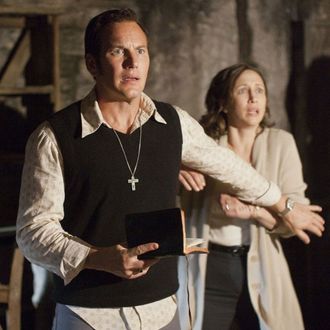 Patrick Wilson and Vera Farmiga in the
Conjuring
series.
Photo: Warner Bros. Pictures
Warner Bros.' Conjuring films are all supposedly based on true stories, despite the fact that they include lots of ghosts, which to be clear, are not real. But the very claims that the films are based on the real-life accounts of Ed and Lorraine Warren, a married pair of Catholic investigators played by Patrick Wilson and Vera Farmiga, seems to have gotten Warner Bros.' New Line division into some trouble, according to a detailed investigation from The Hollywood Reporter. Legal filings from lawsuits against the studio allege that, while Ed and Lorraine are depicted as happily married and in love on film, Ed initiated a sexual relationship with a 15-year-old girl during the 1960s and continued it for 40 years. That woman's testimony also alleges that Ed was physically abusive toward his wife. The revelations stem from a lawsuit from Tony DeRosa-Grund, a producer on the first Conjuring, who claims he was unfairly shut out of profits from sequels and spinoffs and that he alerted the studio that the film's claim to be the "true story of the Warrens" was inaccurate after it opened.
Ed Warren died in 2006. Lorraine Warren, now 90, did not comment in THR's story as her attorney cited health issues. (The couple's daughter and son-in-law insisted they saw no evidence of Ed's alleged actions and that they believe the woman in question is being manipulated.) Regardless of the truth of the claims, it's also unlikely that they would have too much legal standing against the film studio. The lawyers THR spoke with pointed out that audiences are aware that liberties are being taken with the horror films, and there isn't a strict legal standard for films "based on" real-life characters in the first place. Mostly, this could become a PR disaster for the films if audiences become aware of the alleged flaws in the main characters — though, to be fair, we're about to get a feel-good film about P.T. Barnum, so maybe people are morally flexible.