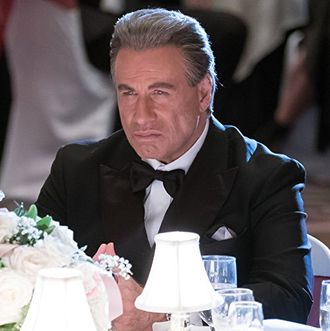 Photo: Brian Douglas/Lionsgate Premiere
Gotti, Gotti, gone. Just ten days before John Travolta's John Gotti biopic was set to open, Lionsgate has cut ties with the movie. Per The Tracking Board, Lionsgate sold the movie back to its production company, Emmett/Furla/Oasis. The producers are expected to seek new distribution for the movie, but the planned release date of December 15 looks impossible. Lionsgate didn't specify the reason for the sale.
Gotti was directed by Entourage actor/Pussy Posse member Kevin Connolly. The biopic covered the life of the the notorious Gambino crime family boss, and featured Travolta's real-life wife Kelly Preston as Victoria Gotti.