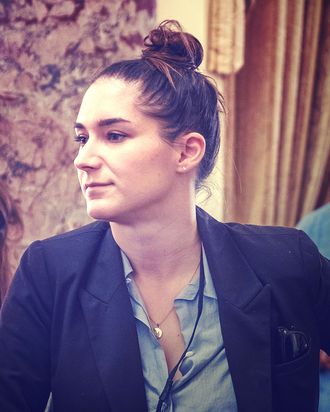 Liz Hannah.
Photo: Niko Tavernise
On the day that I visit Liz Hannah's leafy Hancock Park neighborhood in Los Angeles, there's a fuchsia truck blocking her street. What looks like a hipster ice-cream vendor turns out to be something called the Headshot Truck, a mobile photography studio where aspiring actors can get their head shots taken. It's possibly the most Hollywood thing on four wheels — and a garish reminder that, inside many of these houses, showbiz dreamers still await the day when their big break will arrive.
For Hannah, that break came a year ago, in the form of a phone call a few weeks before the presidential election. Hannah, who's 31, had written a screenplay on spec called The Post, about Washington Post publisher Katharine Graham and executive editor Ben Bradlee and their 1971 decision to publish the Pentagon Papers, the leaked government documents about secret escalations during the Vietnam War. Hannah never expected the movie to get made. It was "a script about two people in their 50s in which no one kisses each other," she says. She merely hoped it would entice an agent to sign her. She polished the screenplay in the fall of 2016 and crossed her fingers.
The first bit of good fortune came in the form of that phone call, from former Sony studio head Amy Pascal, telling Hannah that she wanted to produce The Post. "I was really wowed by it," Pascal says. "She found a unique way of telling a story about America that was also a story about a person. I read it on a Friday afternoon and owned it by that night." Even more unusual is the call Hannah received a few months later when Pascal told her Steven Spielberg was interested in directing — and that they were aiming to release the film this December, in time for awards consideration. "It's the weirdest phone call you can receive. Steven … Spielberg?" Hannah says. Meryl Streep and Tom Hanks signed on to play Graham and Bradlee. In just over a year, her screenplay had gone from her hard drive to an Oscar hopeful.
Raised on the East Coast, Hannah had once aspired to be a producer. After graduating from Pratt, she moved to Los Angeles, where she attended AFI and took a development job at Charlize Theron's production company. A few years in, she decided to write a film of her own, about a 70th-birthday party gone awry. "I sent the script to my boss and the woman who is now my manager, and I said to them, 'If this is good, I will quit my job.' And they both were like, 'Quit your job!' "
As for the idea for The Post, "I read Graham's memoir, Personal History, and I absolutely fell in love with her," Hannah says. Given that Graham had enough drama in her life to make "10,000 movies," the problem was how to write something more than a broad biopic. By using the Pentagon Papers as a turning point, Hannah could zoom in on Graham's struggle to find her voice — at age 54 — "and to become the person she was really going to be for the rest of her life."
During Pascal's initial phone call, she told Hannah, "This is an important movie. We have to make this." Both women believed Clinton would win and that Graham's story would celebrate a powerful woman's role in history. Pascal's father had worked at the RAND Corporation, which created the report that Daniel Ellsberg leaked to the press, and her husband is Bernard Weinraub, a former New York Times journalist, so she had further connections to the story. When Trump won, Pascal says, "this movie took on a different urgency. It became even more relevant" — a reminder of the important role of the free press.
After Spielberg came onboard, Hannah was partnered with Josh Singer, a veteran screenwriter who won an Oscar for Spotlight. Hannah learned a great deal from Singer, who has the on-set experience that she lacked: "When I write, I might sit and think about the line of dialogue for 12 hours, which is very different than: Meryl has to say a line now, what is the line?" Rather than feeling sidelined, she felt lucky to be learning from a cinematic A team that includes composer John Williams and cinematographer Janusz Kaminski. "I was on set every day saying, 'You guys, I have to quit after this because I'm never going to make a better movie. I have peaked.' "
While she awaits the movie's December 22 release, Hannah is back at her kitchen table working on another script and some TV projects. She's also pursuing a secondary dream of directing. "I have decided I'm going to throw everything at the wall," she says with a grin. "I did a lot of meetings after the script sold, and people would ask, 'What is your dream project?' I'd answer, 'Oh, I just made it.' "
*This article appeared in the October 2, 2017, issue of New York Magazine.